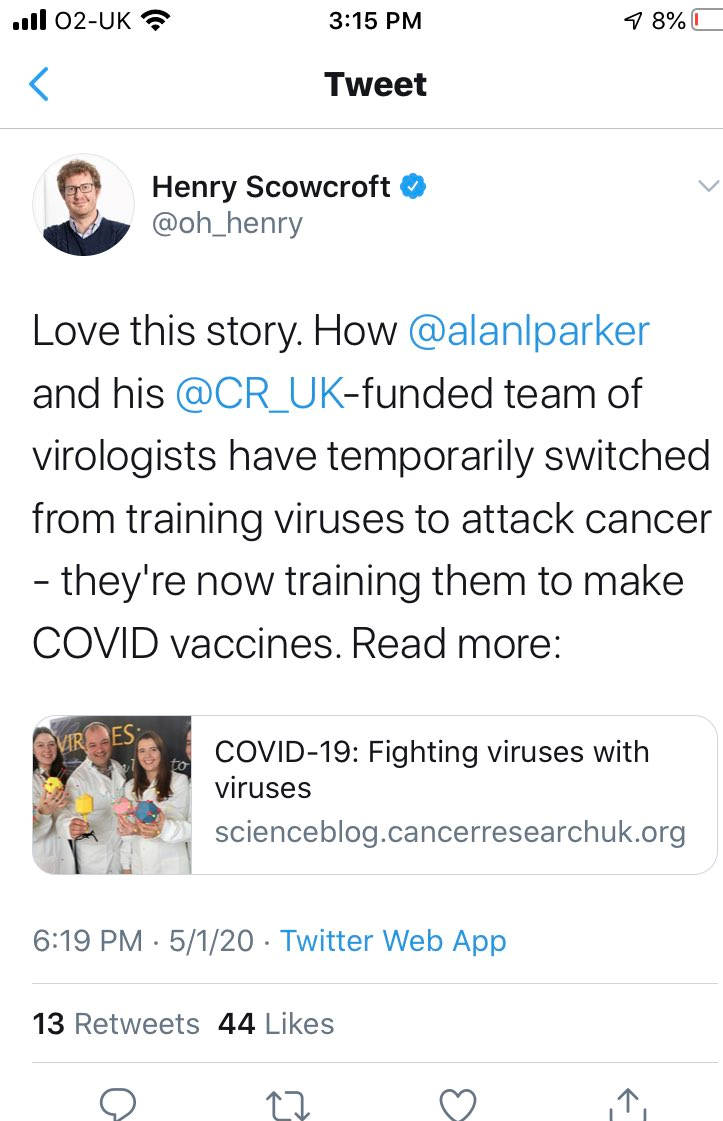 We attach an email complaint from METUP UK to CRUK
(we have received a response this week – see below after the complaint)
We are a patient-led advocacy group, lobbying for a better deal for metastatic breast cancer patients in the UK. The complaint concerns the recent conduct of one of your researchers on Twitter to several of our members, and also your decision to redeploy resources to COVID research and support, away from cancer research and support.
We look forward to hearing from you soon
Best wishes
METUP UK
METUPUK statement
We are writing to complain about two issues:
• The unprofessional conduct of one of your researchers on Twitter
• Your diversion of cancer research funds into COVID research and support
On 2nd May one of our members with advanced breast cancer questioned on Twitter why public donations, raised by people who thought they were funding cancer research, were instead being used to support COVID research and equipment.
Because our member asked this, a discussion ensued in which the researcher, Alan
Parker, told Angela to go off and argue with herself before blocking her from his account. He later stated in a tweet, which only those who weren't blocked could view, that "twitter was a poisonous place" and "some people stir hatred".
Another METUP UK member then tweeted on the subject as did Richard Peass, and the full Twitter thread is included on the next few pages.
As a result our two members felt harassed and threatened by your researcher's tweets and actions. This is at a time when cancer patients feel they have become collateral during the pandemic, because their treatments have been delayed and research has stopped.
Our key issues are:
1. CRUK funds are being diverted to COVID research. We feel this is unacceptable, unethical and possibly even illegal, and we will be requesting that the Charities Commission investigate. Our belief is that charity and fundraising regulations state all monies must be spent for the cause they were donated to, which in your case is cancer research.
We understand researchers may want to volunteer to help with COVID research, but funds should not be diverted for this. We request to see the CRUK minutes of the meetings where you approved the diversion of funds
2. Cancer trial recruitment has stopped, and you have also stated that trials may not restart for 6-12 months. We would like to know:
• who was on the panel to decide to stop all clinical trials
• where the risk assessment is, and the impact that this decision will cause now and on future research
• how many patients have been affected
3. What are your social media guidelines for employee tweeting, and did Dr Parker break those guidelines with his tweets?
We kindly request that you address these issues for the many MBC women who deserve some answers.
Twitter thread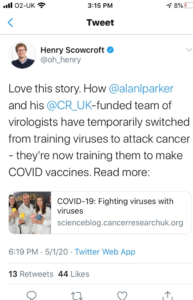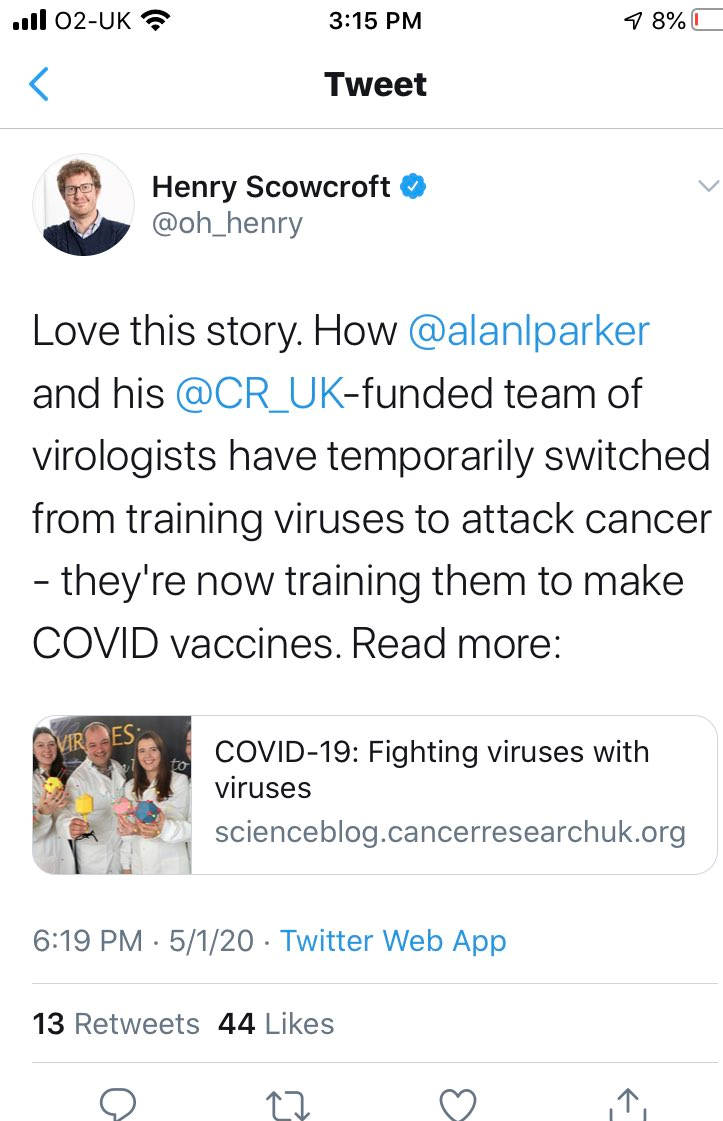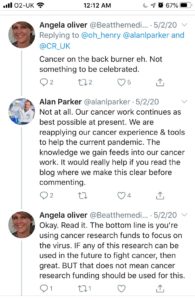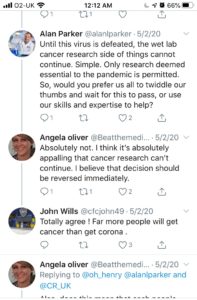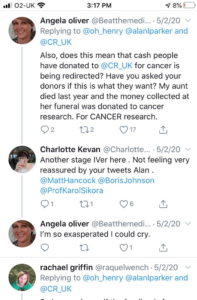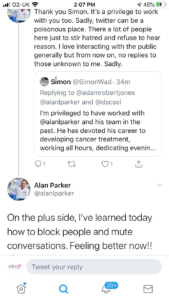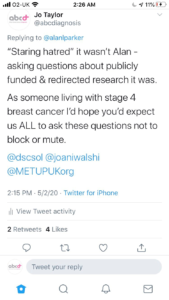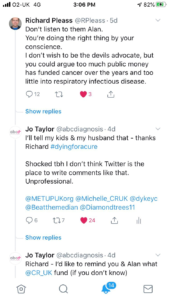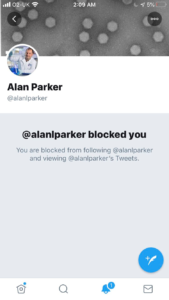 RESPONSE FROM CRUK
Dear Ms Taylor,
Thank you for your call. My colleague Maria has made me aware of your concerns and I am now responding on behalf of Cancer Research UK.
I am so sorry to hear that you did not receive a response to your initial query on the 23rd May 2020. It is important to us to respond to our supporters in a timely manner and understand the frustration felt when this does not happen.
We responded to your email on the 2nd June 2020 – I am so sorry that this did not reach you. Below is a copy of the email you should have received.
If there is anything else I can help you with, please do not hesitate to contact me via email or by phone on 0203 4698 572.
Dear Supporters,
Thanks for contacting Cancer Research UK with your concerns.
Cancer Research UK exists for the benefit of cancer patients and right now, the coronavirus global pandemic represents a clear and present risk to cancer patients. Our nurse's helpline can attest to the sheer volume of patients needing our support in this pandemic.
After the pandemic started, due to the high volume of staff absence due to shielding and quarantine, many clinical researchers and support staff were called back to the front line to help support cancer patients and other patients during the large spike in cases of COVID-19, disrupting much clinical research, including trials.
For lab-based researchers, distancing guidelines meant many universities had to close their laboratories.
Despite this, many of our researchers have been able to continue some of their work from home, for example analysing data, working on new research proposals, or writing up results.
But for many – including clinical researchers – some cancer research is on pause and we are doing everything we can to help them to safely resume their work.
In a few cases, our researchers with expertise relevant to COVID-19 – including how the virus might affect people with cancer – have applied for 'essential worker' status, allowing them to temporarily contribute to the national research effort against COVID-19.
We have supported the national effort in a range of ways such as rapidly setting up COVID-19 testing support for frontline workers at the Francis Crick Institute. Our hope is that this will support testing for frontline staff at nearby University College London Hospital, and thereby reduce the likelihood that vulnerable cancer patients admitted there for care would be exposed to the virus.
Our researchers' involvement in COVID testing has also meant that this expertise can be directed at speeding up the return of researchers and helping to hasten the restarting of our clinical trials. During a national crisis such as this it feels appropriate to exploit the expertise we have.
Other Cancer Research UK researchers have adapted their cancer research to finding ways to combat COVID-19 such as in Dr Alan Parker's research.
Where researchers have temporarily applied their expertise to understanding COVID-19, we believe that the knowledge they bring back can be directly applied to their cancer work. For instance, understanding the role that inflammation plays in patients with COVID-19 can be applied to cancer, where our Grand Challenge researchers are learning more about the role it plays in the early onset of cancers such as oesophageal.
In the case of the charity's Centre for Drug Development (CDD), the team have been working with academia and industry where they have been able to apply their clinical management and trials expertise to rapidly expedite a potential life-saving COVID-19 treatment from Japan to the UK for trial, with no financial cost to the charity and with no impact on the treatments for cancer patients on the CDD's phase 1 clinical trials.
The lessons they learned will now be applied to speeding up early phase cancer clinical trials, which is hugely important.
We fully support these efforts, which demonstrate the resilience, resourcefulness and altruism of our researchers and staff.
However, our COVID-19 assistance absolutely doesn't mean that cancer is less important. The sooner COVID-19 is controlled, the sooner patients will be able to access routine cancer services and the sooner we can resume our life-saving research in full.
Any financial outlay we have made has been limited – we estimate to less than 1% of our annual spend, and we are seeking Government reimbursement for it.
It is also important to clarify that Cancer Research UK did not take the decision to stop any clinical trials.
For some trials, recruitment was paused at some trial sites. These decisions were made locally by the participating sites. In other trials, recruitment was suspended by the trial sponsor across all sites, usually because it was not safe or feasible to continue recruiting into the study during the pandemic. Patient safety was at the forefront of all decision making to pause or suspend trials.
Several factors influenced the decision to pause or suspend trial recruitment such as the type of treatment cancer patients were receiving; some treatments such as advanced biological therapies require access to Intensive Care Units, which wasn't possible at the height of the pandemic.
Other factors involved the cancer type, where some cancers are particularly susceptible to COVID-19. The trial location also influenced the ability of trials to continue. In some cases, centres were able to safely continue treatment at locations that were low-risk for COVID-19, while others weren't because of the unequal impact of the pandemic on certain regions.
As trial recruitment fluctuates over time it is difficult to know how many patients have been affected by the pause or suspension of trials during the COVID-19 pandemic.
Although we're starting to see trials start up again, it's likely that this will take some time to return to pre COVID-19 levels of activity.
Staff are being supported to prepare for returning to their research roles, and cancer services are adapting to the new environment. This does mean that the way trials are run might change.
And it is vital that patients are treated for cancer in safe spaces where the risk of exposure to COVID-19 is minimised. COVID protected safe spaces are now our urgent priority and we are doing work to help influence the UK Government, ensuring that there is adequate COVID-19 testing and supply of PPE.
We are also pleased to say that a number of our clinical trials have restarted including a world first proton therapy trial and some of our first-in-human studies of cutting-edge treatments.
We'd like to express our sincere regret to your members for the negative feelings generated as a result of the exchange between them and Dr Alan Parker on his personal Twitter account.
While the charity is not Dr Parker's direct employer – we fund his life saving cancer research and he is employed by the University of Cardiff – we take our duties in situations like these very seriously.
Michelle Mitchell, our CEO, directly reached out in a Tweet to one of your members after the exchange, and we also spoke to Dr Parker to understand his viewpoint.
We regret and sympathise with the negative impact that this exchange has had on both parties and we are offering social media guidance to Dr Parker and other researchers we engage with for any social media and digital news activity we are working with them on.
We do hope that this letter helps to clarify Cancer Research UK's support for the global Coronavirus pandemic and the impact on our clinical trials and ultimately, their resumption.
Sincerely,
Sophie Marshall
Senior Complaints Executive