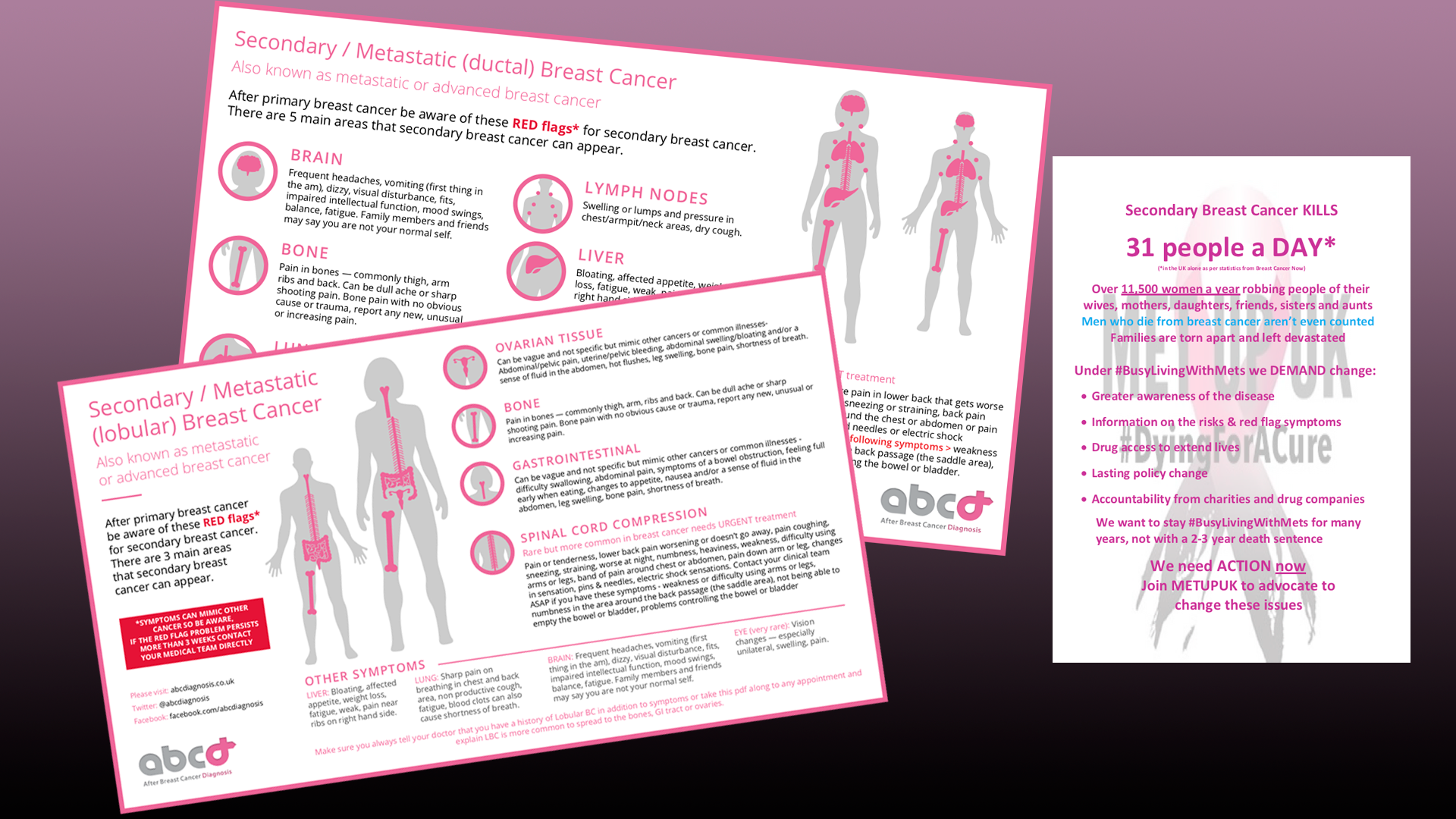 MBC is currently incurable. MBC is significantly under-represented in the "pink" celebratory marketing of many breast cancer fundraising campaigns.
METUPUK will work alongside all key stakeholders to promote the proportionate inclusion of MBC across all breast cancer awareness-raising campaigns. Campaigns should focus on MBC in direct proportion to the proportion of MBC patients within the breast cancer population (30% weighting).
---
METUPUK will educate policy makers, charities and government bodies to ensure that MBC is an equal priority for funding, research and innovation.
METUPUK will work collaboratively alongside key organisations to secure increased funding of MBC research and innovation.
METUP UK will work in partnership with international stakeholders to consolidate global research and learning to influence improved MBC outcomes.
---
METUPUK will ensure MBC is represented on relevant trusts or boards of breast cancer organisations; promoting and expecting patient advocates to act as trustees/governors or board members.
METUPUK will influence all relevant organisations with an "interest" in MBC to ensure proportionate MBC Patient Advocate representation (30%).
---
METUPUK will support and educate all breast cancer patients through education and information to try and encourage an early MBC diagnosis and hopefully maximise treatment options, quality of life and survival prognosis. METUPUK will ensure people diagnosed with primary breast cancer understand and recognise the symptoms of MBC.
METUPUK will promote the integration and use of the #SBCinfographic across all of the NHS Trusts' patient information processes.  NHS England are now signposting to them.
METUPUK will promote #SBCinfographic inclusion in all health care professional training.
METUPUK will promote the infographics inclusion and explanation to patients at key points of their primary breast cancer treatment. An example: when adjuvant treatment is complete and subsequently at all follow up appointments thereafter.
METUPUK will work to encourage the embedding and use of the #SBCInfographic across all relevant charities and health care organisations and its inclusion in the Macmillan Recovery Package which is to be implemented by 2020.