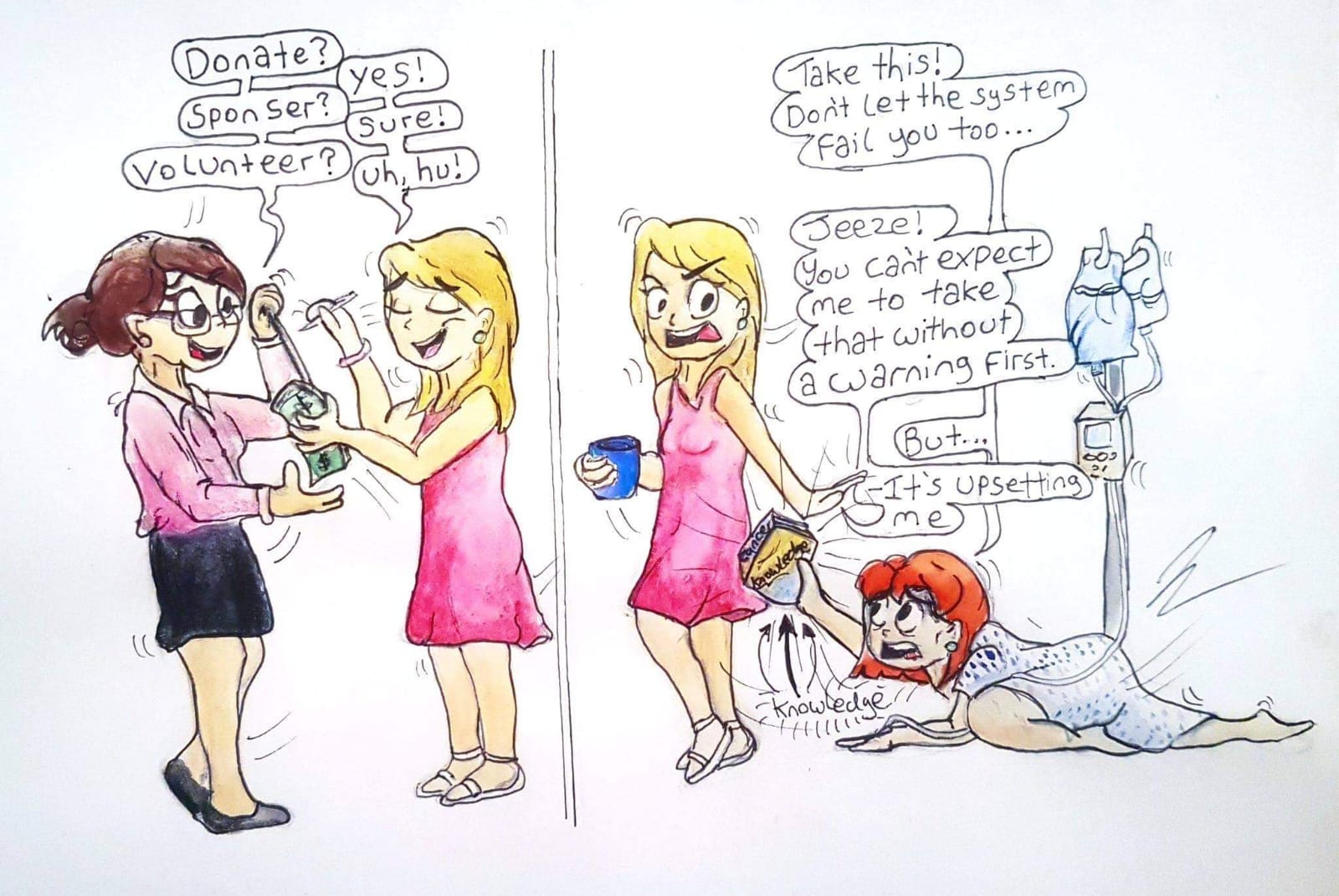 Today is #WearItPink Day headed by Breast Cancer Now:
'They sat me down and gave me those three horrible words… I went into hospital on Tuesday at 9am and by the Thursday afternoon I'd had a mastectomy.'

Read about Ken's breast cancer diagnosis and why he's supporting #wearitpink today @TheSun https://t.co/UY1JjPWfWn

— Breast Cancer Now (@BreastCancerNow) October 23, 2020
Do we need trigger warnings?
The question of the pinkification of breast cancer, which the breast cancer charities clearly find works in encouraging awareness and fundraising, has got the creative juices going for our resident cartoonist – Tassia Haines (whose blog is called 'pink is not my colour')!
Tassia was responding to a conversation around a Facebook post by Breast Cancer Now, where they stated that 30% of those who have primary breast cancer are likely to end up with secondary breast cancer. A number of users didn't want to see this kind of content (and the stats do appear to have been removed) and complained that trigger warnings were needed:
Are we statistics?
Kit also recently asked if we need trigger warnings on some of the material that we (and some of the charities) share around secondary breast cancer, especially the statistical information – as she says – she is too busy living to die quietly! Many oncologists do encourage us to remember 'that we are not a statistic', and that statistics are based on historical data. We are encouraged to  'live the best lives that we have now', but it also is not helpful for people to assume that we are going to live a normal lifespan!
Like everyone, we have decisions to make about how we spend our time – do we carve out more time to see friends and family.. and do we write our wills and make funeral plans (shouldn't we all, regardless)? Life insurance companies currently use statistics to decide whether to pay out. Bex is currently asking questions about whether she should retire early, depending upon her prognosis (although her oncologist tends not to talk numbers in relation to the individual!) – or whether it is more helpful to keep brain active despite the side effects from ongoing treatment.
Another of our members, Emma, recently posted about having to move onto the next treatment line, and the sinking feeling as you realise that's another option gone (although we hear from others who were given 6 months, put on a trial drug, and still going 5 years later, so none of us ever 'know'):
What are the statistics?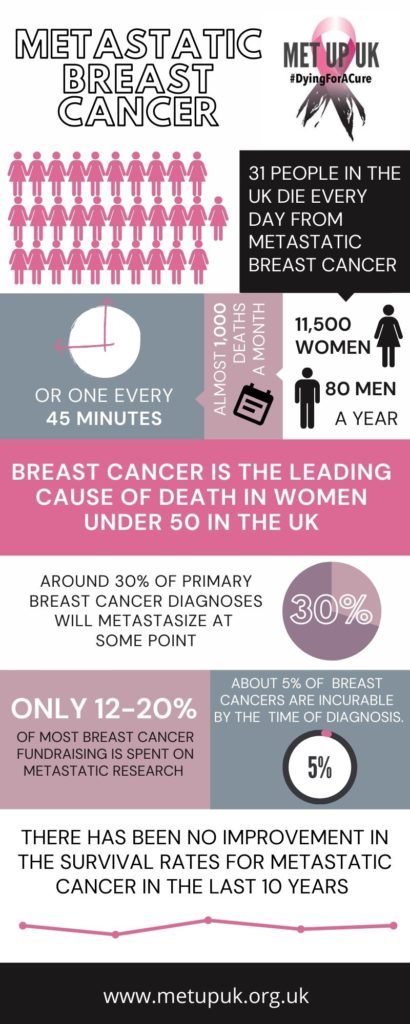 We have been having a conversation in our WhatsApp group this morning about the stats around secondary breast cancer. Most commonly we hear that 2-3 years is the median life expectancy (despite all the talk of extended life spans, it seems that this can often be measured in extra weeks and months, rather than years), although sometimes we hear 3-5 years… and this mix of numbers is confusing. We think overall it's still median 2-3 years.
Much as this is terrifying to hear (and we all hold onto the stories of those we know who have lived 10+ years) it pushes those of us living with the disease to fight for better research, better treatment options, and better access to treatment – extending both the quantity and quality of our lives.
One of the big things that METUPUK is pushing for, is for better data collection around secondary breast cancer – at present statistics are only collected on diagnosis, so we don't know when/where people are becoming metastatic… and therefore the statistics look incredibly brutal – as Cancer Research indicates that only 15% of those diagnosed de novo (at the beginning) Stage IV will live more than 5 years (we don't really know for those of us diagnosed later).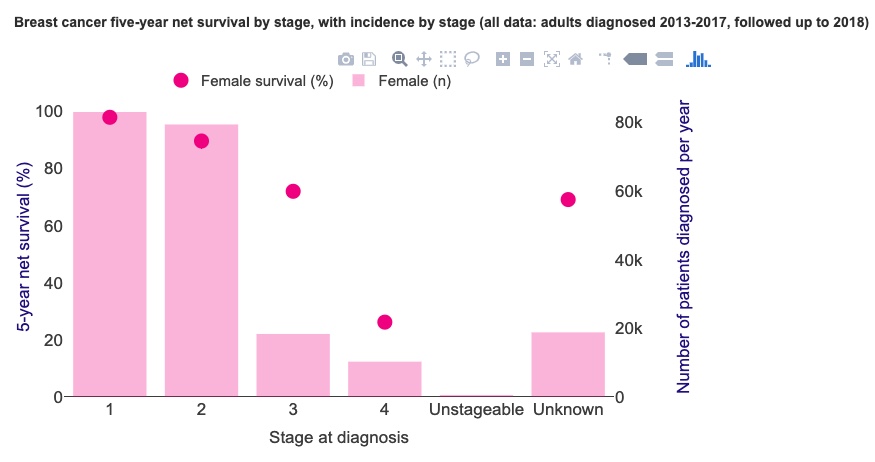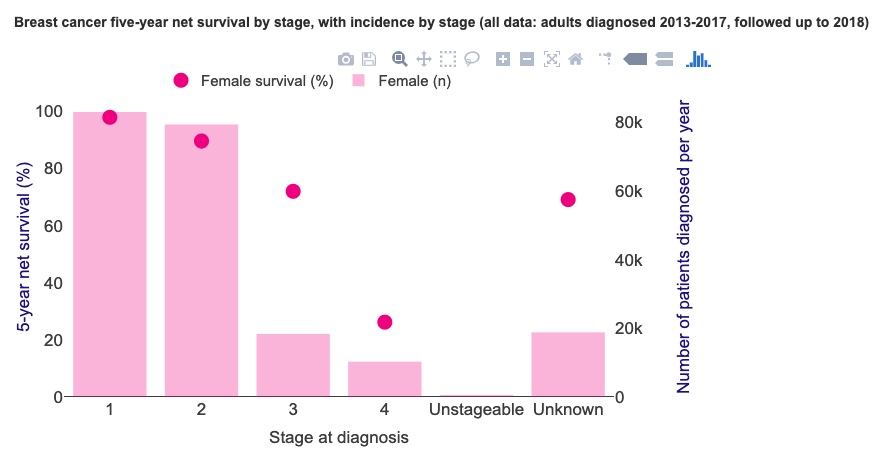 Many of us in METUPUK have been primary patients, and Bex last year, with secondary oligomets (tiny bony metastatic tumours) was originally given an expectation of a pretty normal lifespan … Cancer, however, can stay away for ages, or it can pop up again quickly – and Bex's new tumour (also having mutated to 'triple negative', a particularly aggressive type, although given extra hope with the ASCENT trial) has caused her to realise how urgent METUPUK campaigns are, and how much we can do with help from the primary breast cancer community, friends and family, and the charities!
Please do also sign this letter to your MP (via Breast Cancer Now) about the resources that cancer patients need, alongside the COVID funds.