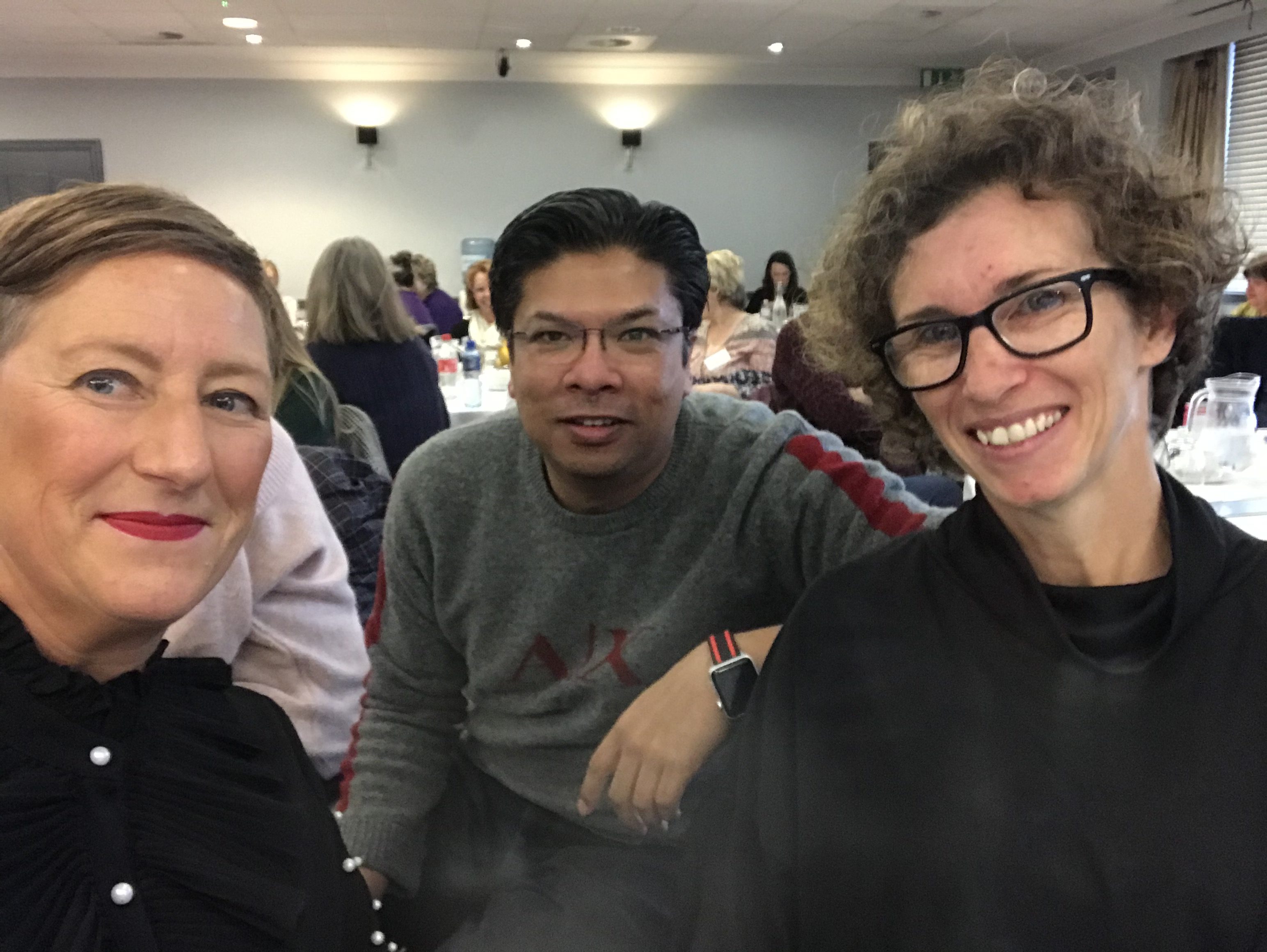 I was invited by Ann Baker to attend the Secondary Breast Cancer Awareness Conference 2019 in Swansea. Unbelievably she is the ONLY Clinical Nurse Specialist in Wales!
It was a long trek as I had just finished another successful #abcdretreat that weekend, so a taxi came to pick me up at 4:30pm to get the 5:30pm train to Swansea. The taxi man chatted all the way and after I mentioned "cancer" (as I stupidly mentioned the conference I was attending the next day), he quizzed me about everything. He wouldn't shut up about cancer and wanted my opinion about various things. So he had it straight. CBD oil, there's a cure that's hidden… blah blah blah.
I eventually arrived at the hotel after 10pm and of course when I got to the hotel and checked in the restaurant was closed. There was a Tesco nearby so I was able to buy an "upmarket" pot noodle – that was fun camping in the room. Oh the joys "yeh your always going somewhere" like I have some private jet flying me about like a celeb, oh far from it!
Met Ann and Carolyn Gammon (Welsh patient and METUPUK supporter) in the morning at registration and finally met Kelvin Gomez who is a breast surgeon in Wales and knew him from twitter.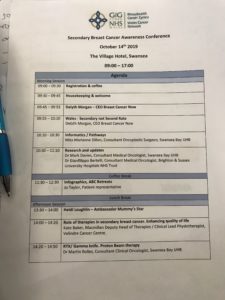 First speaker was Baroness Delyth Morgan the CEO from Breast Cancer Now.
Delyths talk started off with their goals and ambitions and talking about a "step change" which is needed with secondary BC. Said how BCN is supported "all by volunteers" and how they want to connect with the patient community. How there's been soul searching to change attitudes and it isn't a rosy picture for all "survivors". They will be using the report from the questionnaire that has been produced on SBC to influence change. QOL and improved earlier diagnosis was discussed (that was why I developed my infographics over 3 years ago) and she said that people won't necessarily live longer – however one view I've seen from research says that with oligomets (solitary or just a few tumours) patients WILL live longer as the disease is more treatable when it is not out of control and spreading. They are treating around 3-5 small mets with success. So there is a debate to be had for increased survival for early diagnosis for oligomets.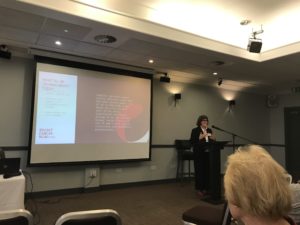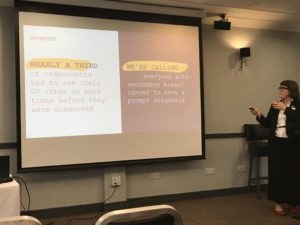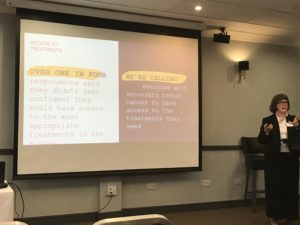 METUPUK are starting a new group with BCN and other stakeholders which will form very soon as we need to focus on research, trials and access as a priority. COMMUNICATION is key. And personally, for research I would like to see support like the phone support that BCCare provide for primary patients with a patient navigator for SBC patients when they want to talk or when they need to access a clinical trial. This support person could help them with the information they may not understand and to make the best clinical decisions. It was clear when Bonnie Fox and Mary Richards struggled to get onto the active arm of a clinical trial that they needed support at that stage to (in addition) get access through compassionate grounds, or accessing other drugs or further trials. This process would be an important step. Sadly both Bonnie and Mary died whilst trying to find other clinicals trials whilst their drugs failed them.
I was a little sad that a photo from BCCare had been used in the presentation, showing our BCCWW friend Chris (@tartygarty) who had died 3 years previously. A couple of us had tweeted BCCare in the past when this had been shared in their promotion tweets after she died as, she had no direct family to speak up about using her photo in marketing material.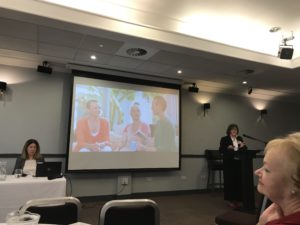 This also sparked a conversation I had with METUPUK members that "is it right that photos of people should be used in marketing for charities AFTER you have died?" I think there needs some clarity to their policy to be addressed here about social media.
Another quote used that Carolyn wrote and saved and I thought was unusual:-
"Some of the low hanging fruit have been grasped and now we have some more of the difficult stuff to do"
Are BCN a business or a charity? Rather strange to come from the CEO of a charity, I pulled this from the internet – I have heard this many times in business years ago but want to point this out:-
"business owners know the best marketing strategy is often the one that is most likely to produce quick results. In marketing, low-hanging fruit refers to those consumers who are easiest to attract to your business. Focusing your efforts on this group maximizes the effectiveness of your marketing campaign"
So attracting consumers to the charity to donate money of course – yes… I'll be interested to know what quick results they have had and in what area? I didn't get the opportunity to ask this question.
We were also told that BCN provide 1/3 of breast cancer research that happens in the UK. Public donations go to research. Drugs go onto clinical trials. Drugs are launched, patients can't access drugs. That doesn't seem right. It's good to hear that they are providing research but speaking on behalf of METUPUK we need more donations going specifically to SBC research, more in line with the approximate 30% of people who will metastastize "at some point" would be more like what we need. Even more would be better! "Research" doesn't always mean secondary breast cancer.
Much to do.
The next speaker was Miss Marianne Dillon Consultant Oncoplastic Surgeon from Swansea Bay UHB
"A surgeon takes away the cancer but when the cancer has gone beyond the breast it is no longer in their power, so this role then goes over to the oncologist"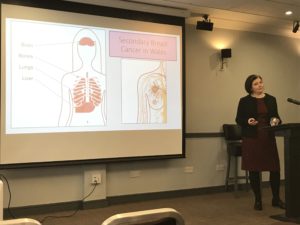 She was highlighting issues with communication and infostructure. She talked about data and statistics with the WCISU – Welsh data registry and the other numerous registries which all have different systems that don't talk to each other and there was a list of around 10 different registries. We need one system to have this information.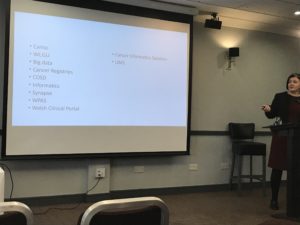 Marianne pointed out issues in the slides and one in particular was UNK (unknown – see below) registry – showing that the burden of disease is MUCH higher as this is a set of figures that are not registered/coded on the system (see the photo). Brain mets is not shown in many statistics.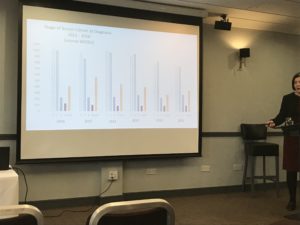 There is though now 82% complete with coding in the system. She pointed out that even women over 80 are living past 3 years! Bone mets 15-20 years (bone only). This is why research like Prof Rob Clarke and Dr Rachel Eyre from Manchester are doing with repurposed drugs regarding breast cancer in the bone is MASSIVELY IMPORTANT!
RELEASE THE DRUGS!
THIS IS HOPE! This is why we need better data and statistics.
Australia's stats were looked at and they give the impression that the Breast Cancer "journey" stops at primary disease… (!) There are no statistics after primary breast cancer.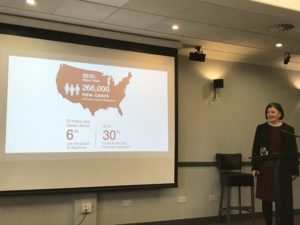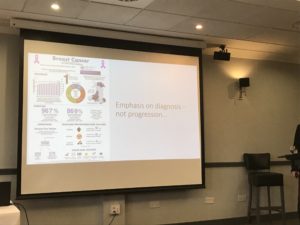 If this was England you would be ignoring ~36,000 patients. Australia needs to start counting advanced/ metastatic/secondary Breast Cancer patients!
My question in all this is – if we are going to #bemorepirate (see twitter radical thinking and change) about this then oncologists need to be "thinking outside the box" and offering maybe surgeries and radiotherapies that also compliment extending life not just pallative care. We need to stop thinking that 2-3 years life expectancy is all we have.
Oncologist need to be given the clinical ability to try different therapies in different lines (this is how USA patients are living longer) due to the disease and if some issues eg low blood count then the patient can be taken off AND restarted at a later date. There has been research on Palbociclib to say that this can improve efficacy of the drug. Taking a patient off palbo and restarting. Sometimes pharmacies don't let you do this. This should be clinical judgement by an oncologist with years of experience. I say let them do their job!
What do we want to do here? Save money and progress people through fixed drug regimes or actually extend people's lives and give them more time with their families? Additionally use cheaper chemotherapies that for some can work. Oncologists need to be smart in their approach. Mix and match.
Next was Dr Mark Davies Consultant Medical Oncologist from Swansea Bay University Hospital who talked about genomics and matching people with trials and said that funding was an issue for whole genomic testing of course. This is beginning to be used more and results can be processed in a day whereas it had taken WEEKS to get this information. This would help to find the best drugs for the patient for survival.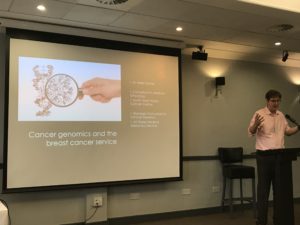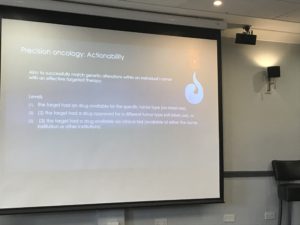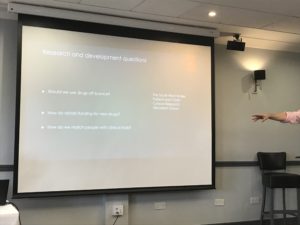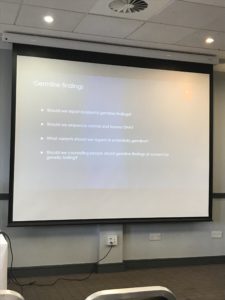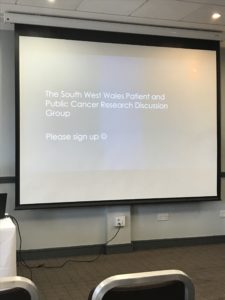 Dr Gianfilippo Bertelli Consultant Medical Oncologist from Brighton and Sussex Hospitals gave information about the different disease types of breast cancer and the new drugs like Palbociclib and the options that patients have when they are diagnosed. Life expectancies were highlighted for each group as well. Shocking that some subtypes are still very low with their survival rates.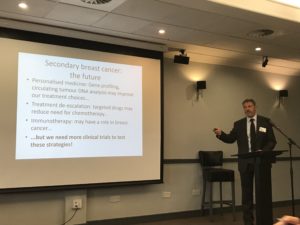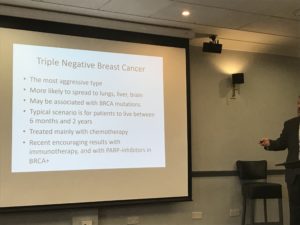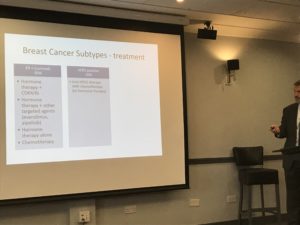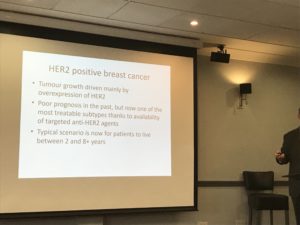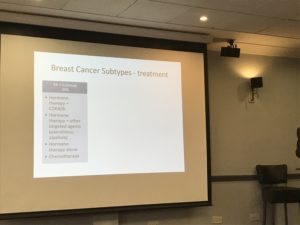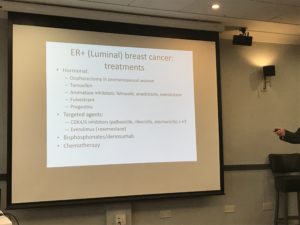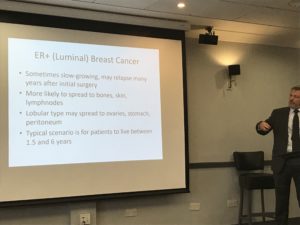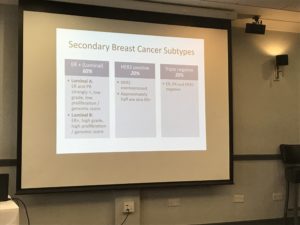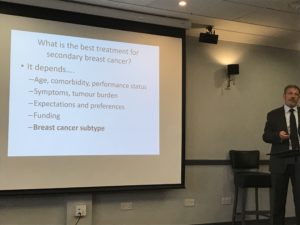 We had coffee and after the break I gave my presentation about my story and how ABCD was developed with the infographics, and what we are doing now with METUPUK and our campaign to increase awareness of secondary breast cancer under the hashtag #BusyLivingWithMets
Not surprising I echoed what Marianne was saying with access to data, statistics and research. Additionally with awareness of secondary breast cancer – she also uses my infographics. It was all well received.
Had a lunch break with Carolyn and Heidi Loughlin joined us – she was the next speaker and is an ambassador for Mummy's Star. I remember sharing her story with Pete from Mummy's Star when she was pregnant with her daughter Ally as she was going through chemo whilst pregnant. Very tragically Ally died 8 days after she was born contracting an infection in hospital 5 days after being born early at 28 weeks. Sad and poignant the talk certainly was, Heidi though delivered it with humour and peppered it with lots of swearing (tears as well) and I'm glad she did. I hope you smile with the list of words she used that I decided to note for my own amusement:-
Shit, fuck, bollocks, tits, wankers, bellend and Dr Knob (delayed diagnosis was told it was mastitis so this is her name for the Dr who didn't pick this up).
It was uplifting to hear her talk about her dark days but then how she wanted to "live with strength and happiness" and "not to let the fear control you" when she was diagnosed with incurable cancer not long after Ally was born when they could eventually scan her. Heidi is doing well though and 4 years on from her diagnosis she is currently stable on Kadcyla.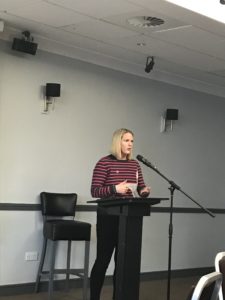 One last thing that she has created this acronym that she talked about :-
Courage
Unity
Never stop laughing
Tits under the couch (you need to hear her story to understand this)
Yes I'll let you figure that acronym of how she remembers that. I say "be more Heidi" for sure.
Kate Baker spoke about the role of therapies in secondary breast cancer – enhancing quality of life
Kate certainly complimented again all I had said about how to live well with secondary breast cancer in respect of prehab and exercise and gave a good session on this and liked the infographic on physical activity guidelines for adults.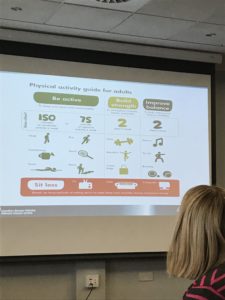 Dr Martin Rolles – consultant clinical oncologist RTX/gamma knife, Proton beam therapy.
There has been huge investment especially in proton beam therapy around 200 million in new machinery in the UK. (I know The Christie has the new proton beam therapy unit as well as a Linac machine).
Radiotherapy is used for palliative care as we know but Martin talked about bone mets and an issue with sacrum mets and how it goes through to the bowel, so they do RT in chunks so that they don't get as many problems or side effects. Radiotherapy goes right through the body and out of the other side. (want to point out here for example, for left sided breast cancer patients this can cause cardio problems with the heart being in the way – which is why the breath technique is used).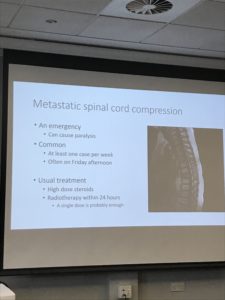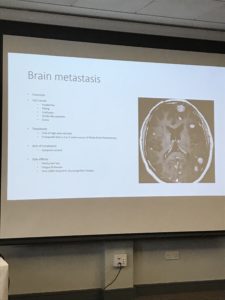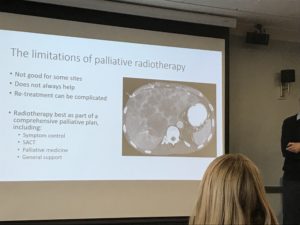 At the end of the session I asked why they can't use proton beam to help stop these problems. So it could be used on secondary cancer patients to minimize effects? Told that we don't use this yet because we don't have evidence to support it – so no clinical trials in palliative care and he gave the impression that "well we will die anyway so what's the point" I challenged him and he apologised for giving that impression. But still the issue to me is that the NHS have ALL this new technology and only using it in very specific cases like paediatric for brain mets as patients have in the past had to travel to America or Europe for treatment.
There is limited funding for gamma knife and cyberknife – it's mainly for private patients.
So again, we have a 2 tier system here that we have this amazing and wonderful technology that costs a HUGE amount of money and can possibly help patients but they won't use it because there are no clinical trials on it. How crazy that we have this situation and patients are denied access. It's only for the few and those who have private healthcare. Makes me wonder how much more survival could we have if they DID use all the available treatments, surgeries or radiotherapies…?
Martin seemed to promote more radiotherapy for whole brain for mets. I know that this is seen as a "last resort" for patients with brain mets. Targeting therapy and surgery should be discussed and obviously if they can't do that then they would have to consider this as an option. A thought provoking talk. And I think we need some radical thinking here instead of going through the motions with NICE guidelines.
Lastly Adrienne Morgan discussed issues around menopause and intimacy and highlighted the fact that this needs to be discussed from the start of treatment. It is still an area where there isn't much research done and the issues you have can be very distressing and upsetting as you are "never the same" and you need support and discussions with your clinicians. One to discuss on the HNA (holistic needs assessment) with patients. Really feel that this needs a fully qualified person to discuss these issues with. Your oncologist or CNS/BCN are just not equipped enough to handle this sort of discussion.
Unfortunately, I had to leave before the end of the conference as I had a train to catch and a 5 hour journey back home but my number one thought from what people were saying was that :-
"A drug on a shelf is just an invention", Bettina Ryll quotes this as her husband died of melanoma and she is a strong patient advocate involved in ESMO – we certainly need better in all aspects of care for secondary breast cancer patients from data and statistics, accessing drugs and treatments, accessing radiotherapies, having extended life, genomic testing, support, Clinical Nurse Specialists like Ann – how can Ann be the only CNS in Wales? But whoever she supports she is an amazing CNS.
Thank you so much for inviting me to speak and it was a great event to network and see the lovely Carolyn again. And thank you to Clive, Ann's husband for taking us to the train station.  Heidi seems to have shrunk in the car.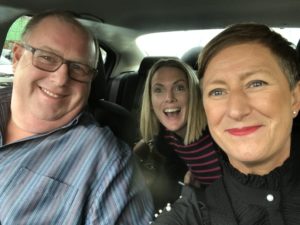 We will keep #BusyLivingWithMets and remembering Heidi's acronym…
Jo x