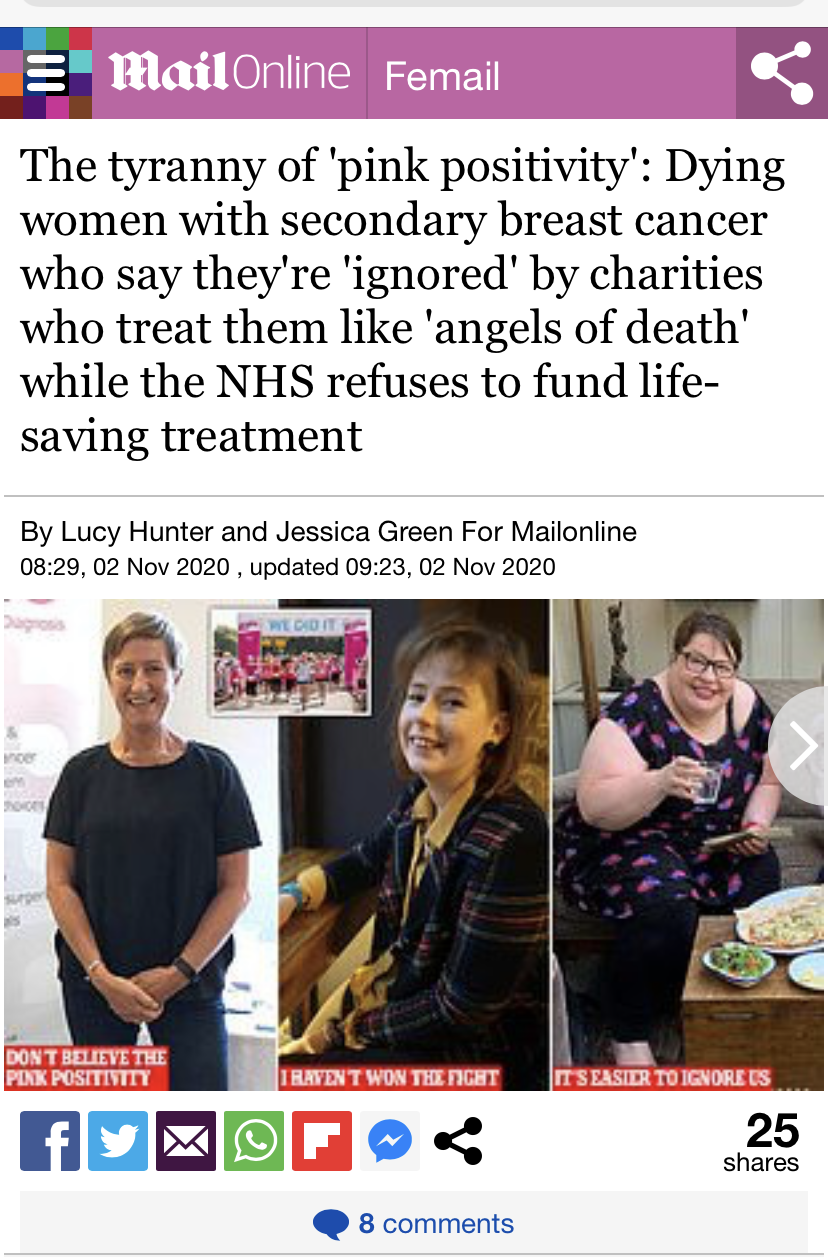 The article starts:
They are the women who are dying from secondary breast cancer – but feel ignored by the charities set out to help them.

From being labelled the 'angels of death' to being made to feel guilty for not 'winning their battle', British patients suffering with the incurable condition have revealed why they're campaigning for more awareness.

Secondary breast cancer, also known as metastatic breast cancer, is when tumour cells which started in the breast move to other parts of the body, meaning it can never be completely cured.

But following the end of Breast Cancer Awareness month, it is perhaps surprising to find that not every woman with the disease is happy about the often star-studded campaigns, fundraisers and hashtags such as #wearitpink which raises millions for the organisations. 

Many women who have been told their cancer is incurable have shared their outrage with FEMAIL after admitting they feel they have been side-lined, ignored and underfunded, claiming little is ever mentioned about secondary breast cancer.

Instead 'pink positivity of "cured and move on and that's it, end of treatment", is pushed by charities, and it simply does not tell the whole story', insists Jo Taylor, 51, from Oldham, who developed secondary breast cancer seven years after receiving treatment for primary breast cancer.

Frustrated by breast cancer charities' seemingly low-key approach to secondary breast cancer, Jo and other sufferers have formed a patient advocacy group, METUPUK, to help people gain access to the best medicines to prolong and improve their quality of life.

Here, we speak to three women who are fighting to raise awareness about the condition – despite admitting: 'We probably won't even live long enough to benefit from our campaign'…
You can read the full article, which features METUPUK founder Jo Taylor, and members Bex Lewis, Tassia Haines and Emma Fisher, before Breast Cancer Now gives a response.