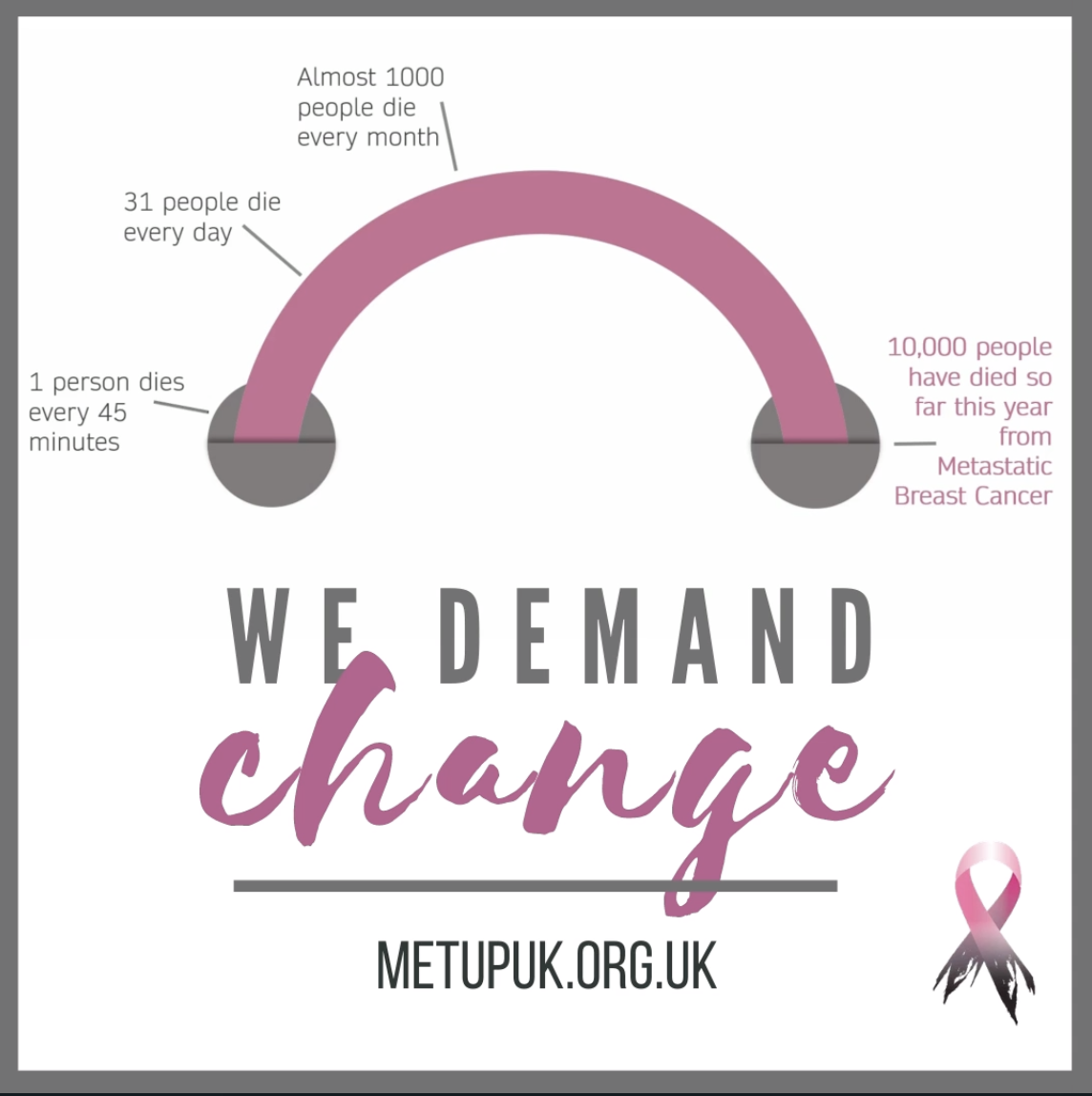 Today, Wednesday 18 November 2020 , marks a sad milestone for secondary breast cancer this year. It is the day when statistics show that we'll reach 10,000 deaths for the year so far. That is 322.5 days of 31 British people (mostly women) a day dying of the pink cancer, the so called 'easy cancer' (and doesn't even include numbers for any other cancers).
Why are so many still dying?
You might be asking yourself why so many people are dying with so little publicity. It's a good question that continually breaks the hearts of everyone here at MET UP UK. The simple answer is that our country is failing people with secondary breast cancer.
The reality is that the army of people being killed by secondary breast cancer has just 3 things in common:
They have secondary breast cancer.
They are mostly women. They are wives, daughters, sisters, aunts, mothers, grandmothers and best friends (around 80 a year will be husbands, sons, brothers, uncles, fathers, grandfathers, etc). They are loved, needed and missed when they are dead.
They were all failed by a completely broken system. A system that prioritizes researching prevention and awareness over saving lives. A system of cruel and inhumane treatment lines. A system that deems saving lives to not be cost effective. A system that doesn't even count the dead and dying.
We need the charities to fight for us
Major cancer charities could and should be fighting for us. Those of us who are dying for a cure shouldn't have to be fighting against the army of the dead being able to recruit 31 British people a day. That recruitment needs to be stopped by major charities and the NHS. Please be under no illusions. If they wanted to these charities and policy makers could change things. Turning their backs on our tears and deaths is a deliberate choice by them. They compromise by throwing us a bone from time to time, with a new policy initiative or video but make no real change. All as the pile of bones of the 31 a day dying continues to grow.
So why is METUP UK different to these major charities?
We are run by volunteers, many of whom have secondary breast cancer, or have (had) family with secondary breast cancer.
We believe things can and must be different. Our aims and objectives  are focused on patients, extending lives via policy change and cheering on charities like Make 2nds Count who are funding vital research.
We believe in telling the cold hard truths about secondary breast cancer. This might make us unpopular, but it is necessary. If we keep with the status quo nothing will ever change. We don't even know how many have secondary breast cancer, let alone useful data like where mets are and where they spread to.
Calling for a National Audit
We support a national audit of secondary breast cancer patients so that we can be counted. We just want it to be done and done now – rather than being discussed for 10 months (or years). We believe in and demand real and urgent change.
Breast Cancer Now
aims to stop the deaths by 2050 which is an appallingly unambitious target. We are dying today, tomorrow and the day after that. Our lives are literally on the line. We are polite but persistent. MET UP UK will not be ignored. The army of the dead has to stop growing. Otherwise we'll be the next recruits and part of the next 10,000 strong regiment.
Kit D