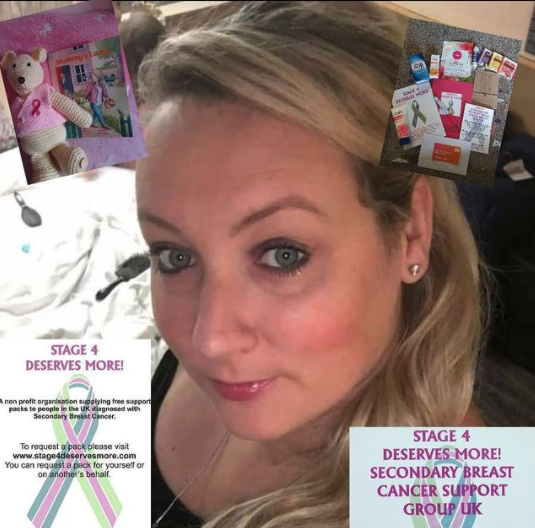 We're keen to highlight the work of other organisations who work in areas related to our core mission (helping those with metastatic breast cancer), and delighted to talk to Gemma, from Stage 4 Deserves More this week.
Tell us about yourself
My name is Gemma Ellis, I'm 37 from High Peak, Derbyshire. Im married with 2 young daughters and before retiring on ill health I worked for the NHS as a Discharge Coordinator.
When were you diagnosed and what happened?
I was diagnosed with inflammatory breast cancer in February 2017 and completed chemotherapy, surgery, radiotherapy and targeted therapies. I was diagnosed with secondary breast cancer in early 2018, metastases to my spine which have more recently spread to my brain.
How and why did you start the work that you do?
I set up Stage 4 Deserves More as I felt there was far less support when diagnosed as secondary than there was when I was a primary patient, I felt really alone at first.
What is the heart of what you do, and how many people are involved in your team?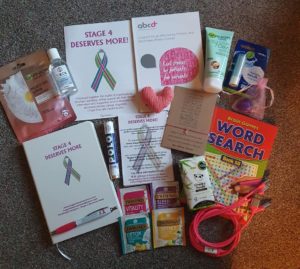 I raise money with my 2 daughters 10 and 8 who are very much involved in fundraising and help me to make up the support packs I send out to people in the UK living with secondary breast cancer.
I've also set up a private support group on facebook…Stage 4 Deserves More Secondary Breast Cancer Support Group where we have weekly free treat raffles for the members funded by my non profit organisation and sometimes donated by people or companies.
I also raise money for secondary breast cancer research projects.
What is a typical day?
A typical day is a lot of time online, supporting on the group, fundraising, replying to emails and messages etc. A lot of time is also making support packs up and ordering items for them (people can contribute items via our Amazon wishlist).
What is the one thing you want to achieve with the work you do?
I just want people diagnosed with Stage 4 Breast Cancer to know they are not alone.
What do you do to relax?
To relax I like to spend lots of time with my family playing games, watching films, going for walks etc…
Where can people find about your work?
To request a support pack you can visit www.stage4deservesmore.com. There are  Facebook and Instagram pages, or you can contact me via email at stage4deservesmore@yahoo.com.