We love finding out what other organisations are doing to support those of us with metastatic breast cancer, so this week were delighted to talk to Naz. Read on…
Tell us about yourself.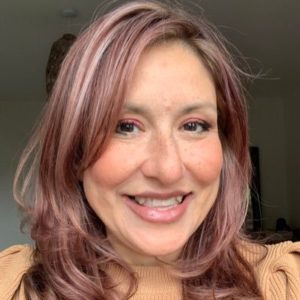 I'm Nazanin Derakshan (Naz). I have an amazing daughter called Ella, she is 10. I'm an academic, a cognitive neuroscientist with expertise in anxiety and depression. I teach Advanced Statistics as well as the Neuroscience of Mental Health. I­­­­­­ am the founder of the BRiC Centre, which stands for Building Resilience in Breast Cancer Centre.  BRiC is an award winning integrative centre for research into resilience in primary as well as secondary breast cancer, educational and emotional support.
When were you diagnosed and what happened?
I was diagnosed with multifocal breast cancer in January 2013. I was shocked and numb to put it plainly, and I suffered PTSD symptoms for a good while afterwards. My daughter was just under 3. I was at the prime of my life having been promoted to full professor a year before, at a young age, and jetting around with success. I had multiple surgeries which included a double mastectomy, chemotherapy and radiotherapy. I continue since with Tamoxifen.
How did you start the work that you do?
I founded the BRiC centre back in late 2015, to provide psychological support for women with primary or secondary breast cancer mainly because mental health support for women like us is scarce or difficult to access. Many of us suffer silently. With my scientific expertise in anxiety and depression and resilience research, it made sense to translate and apply my work to help build resilience in a population enduring high levels of emotional vulnerability.
What is at the heart of what you do?
Resilience. Empowering women with breast cancer and applying new interventions that build resilience and mental flexibility.
My research has shown that a brain mechanism behind anxiety and depression is impaired attentional control, the brain's ability to handle, juggle and filter information efficiently. When we experience a life threatening event like breast cancer, our emotional brain systems take over and we can become overwhelmed, which explains why so many of us experience anxiety and depressive symptoms. Our cognitive brain systems can take a backseat and we can get stuck in cycles of negative thoughts that weigh us down. Fortunately, our brains are born to be resilient, which means with the right training we can boost brain efficiency and reduce anxiety and depression. In a first study of its kind, BRiC's research shows that it is possible to reduce anxiety and distress related symptoms sustainably longer term by boosting brain efficiency and control in women with breast cancer.
BRiC educates and implements ways to build and sustain resilience over time. We have many activities in our network which are well received by our members, and our online Sunday discussions on breast cancer related issues deliver what we've called BRiC's Collective Voice, a rare resource available to anyone. We've had nearly 200 of them so far (see this week's summary)! They are very popular, as are our Tuesday Tidings and Glimpse of Brightness exercises, with a Wednesday Wobble recently introduced.
Why do you do what you do?
We want to improve quality of life and empower women with primary or secondary breast cancer and we want to do it with cutting edge research. With advances in medicine more of us can live longer lives, but the psychological cost of trauma and treatment weigh heavy for many years post diagnosis, and support is scarce.
BRiC is unique in bringing secondary and primary women with breast cancer together. It does not separate them. Our members find this really helpful. Secondary breast cancer is often downplayed in research, in practice, and there is this assumption that to women with primary breast cancer it can be a scary thing. To the contrary, we have shown that
secondary breast cancer is deserving of much research and education for the practice of resilience,
that the experiences of women with secondary breast cancer can be useful and beneficial for women with primary breast cancer, and
that secondary breast cancer should NOT be an 'under-written' form of breast cancer.
Around 30% of women with a primary dx of breast cancer go on to develop secondary breast cancer. This is a notable statistic and should NOT be ignored. Finally, we have shown that women with secondary or primary can and do support each other in discussions and are there for each other in a united fashion. We believe that together, we are stronger.
How many people are involved in your team?
There are just under 1900 UK women (an equal proportion of primary and secondary). There are 8 admins and 1 deputy head. Two PhD students so far, the now Dr Jessica Swainston and Bethany Chapman, and a number of research students. BRiC collaborates with Breast Cancer Now as well as researchers in the US.
What is a typical day?
I am supposed to be on my research sabbatical currently, but due to COVID I am not in a hot place doing hot collaborative research which is what is expected of you during a research sabbatical! I start the day writing my book, then I check into BRiC group and chat with the admins also. After that I see to my research which at the moment includes writing papers and supervising my two current PhD students. When my daughter arrives from school in the afternoon I spend time with her, talk, make dinner and in between do BRiC related stuff!! I pass out at around 10, and my sleep is very important to me!
What is the one thing you want to achieve with the work you do?
I know that empowerment is a sexy word but it carries so much with it. It carries a better state of mind, a stronger, and by stronger I mean more flexible approach to life. Teaching ourselves how to embrace the negative and search for the positive. Teaching ourselves that the sky can be our limit. We decide. They say that the toughest iron is made of the hottest fire, but for us, toughness is about adjustment, malleability, and the ability to change and use adversity as an opportunity to grow. This does not mean undermining our anxieties and fears.
What do you do to relax?
Good question! I love exercising. I love spinning and running, and recently training with weights. They are my favourite. I've also got into structured breathing which I find really therapeutic. Watching a good TV programme gives you so much perspective.  I can swing between being down and energetic, it is hard to fight the dark days, and I do have quite a few from time to time, but there is a glimmer of hope in whatever it is that keeps me going. I find a good cry therapeutic, even though my tears find me in the most unexpected of times.
Where can people find more about your work?
You can find out more about me, BRiC and what we do here: