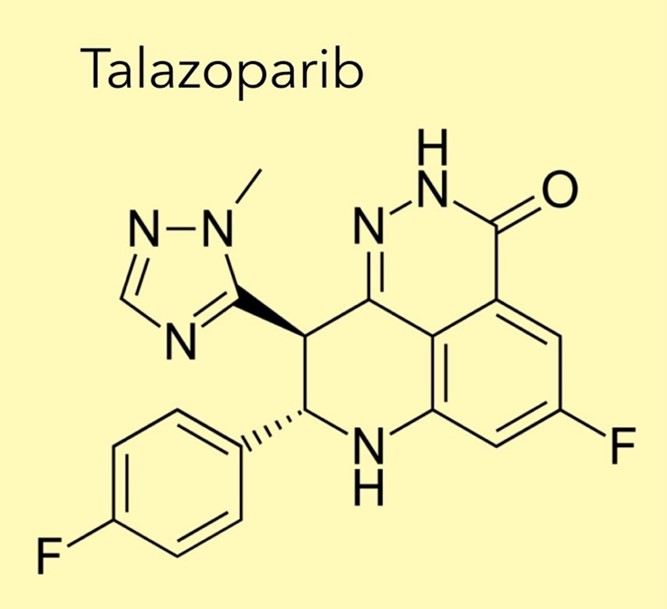 METUPUK are disappointed by the National Institute of Clinical Excellence (NICE) decision to not recommend talazoparib (Talzenna ®, Pfizer Ltd.) for treating HER2-negative, locally advanced or metastatic breast cancer with germline BRCA1 or BRCA2 mutations for routine use on the NHS in England.
Although only around 5-10% of breast cancers are caused by inheriting a faulty gene, germline BRCA1 and BRCA2 mutations are the most common cause of hereditary breast cancer.  They are passed down through families and people who have a BRCA1 or BRCA2 mutation have a 50% chance of passing it to their children.  BRCA mutations can be inherited by both female and male children, and they greatly increase the risk of developing certain cancers including breast, ovary and prostate.
Many people with these mutations are very familiar with the devastating toll of cancer, because they have seen it in family members as they grew up.  Women with mutations in their BRCA genes are more likely to develop breast cancer at a younger age, when they are building their careers or have caring responsibilities for young children or elderly relatives.  Many patients also struggle with the worry and anguish of passing on BRCA mutations to biological children.
Parp inhibitors are small molecule drugs which are targeted against BRCA mutated cancers.  For patients with germline BRCA mutated metastatic breast cancer, there is an unmet need for the option of a parp inhibitor.  Patients with BRCA mutated early breast can now access the parp inhibitor olaparib on the NHS in England.  Olaparib is also recommended for metastatic BRCA mutated prostate cancer and for certain sub-types of advanced ovarian, fallopian tube or peritoneal cancer.  However, there are no parp inhibitors available for people with BRCA metastatic breast cancer on the NHS.
Talazoparib is the most potent of the currently licensed parp inhibitors, and clinical trials show it increases the time patients have before their cancer gets worse.  The drug is taken orally and its position in the treatment pathway depends on the subtype of breast cancer.  For hormone positive patients, talazoparib is expected to be used after endocrine treatment and chemotherapy.  For triple negative patients it is expected to be used after immunotherapy (if eligible) and chemotherapy, but before Trodelvy.  As talazoparib is taken orally, pressure is taken off hospital chemotherapy units.  And for patients, they will spend less time in hospitals and more time doing things that are valuable to them.
Helen is a METUPUK patient advocate living with BRCA2 mutated metastatic breast cancer who worked on the drug appraisal.  "It was important for me to be involved with this appraisal, because I know how devastating it is for families to carry the BRCA gene.  Cancer has been part of my family for as long as I can remember.  Any treatment which can target the BRCA gene and delay chemotherapy is valuable to me, my family and other families.  It is disappointing that talazoparib has not been recommended for BRCA metastatic breast cancer because it is recommended for other BRCA cancers, both early stage and metastatic."
Jo Taylor, founder of METUP UK said : "Failure to approve talazoparib represents a backward step for patients living in England with germline BRCA1 or BRCA2 mutations who have metastatic breast cancer.  Patients treated on the NHS deserve to have access to personalised medicines.  When patients are tested for BRCA1 or BRCA2, it is hard to understand why they are then denied access to a drug such as talazoparib which targets their genetic mutation.  We call on NICE and Pfizer to work together so the patients who will benefit from this treatment can be prescribed it.  New medicines are essential in the challenge to supress this incurable disease"
How can you help?
NICE have opened up a consultation on the provisional decision of the committee to not recommend talazoparib for use on the NHS.  Any member of the public can comment on this decision.  The consultation is open until 18 August 2023.  We urge everyone to comment on this consultation.  The recommendations are not yet final and public comments can make a difference.
The consultation can be found here: https://www.nice.org.uk/guidance/indevelopment/gid-ta10366/consultation/html-content-9
Improved drug access allows us to stay #BusyLivingWithMets and increase our survival outcomes.
We demand change. 
METUPUK