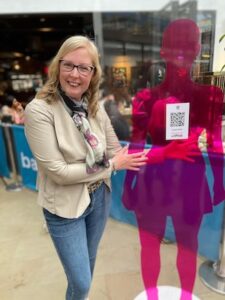 We met Emma as she applied to be one of the METUPUK Darker Side of Pink ladies with our campaign that started in 2021 which focused on metastatic breast cancer, the disease that Emma had.
From our brief meeting, I could see how MBC had impacted her with her young daughter and her family. Her family was her priority. Once talking and getting a little more to know Emma with the campaign and with her following it to some of the areas that it visited, it was obvious that she had a cheeky fun side to her. Her posts on Facebook were ones of having a good time and making the most of the time she had.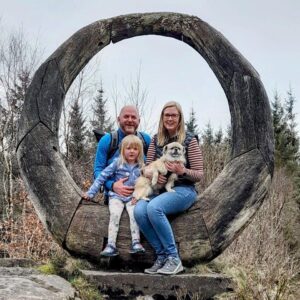 I couldn't attend the funeral due to being on holiday and unfortunately wasn't able to see the live event which was streamed. Her husband Chris shared the eulogy and after reading it was clear to see she was a very active person swimming for Leeds competitively as a teenager and then going onto study Behavioural Science at Nottingham University. She travelled and then worked for the NHS in a number of roles and eventually in a Mental Health role focusing on the elderly with her kindness and compassion. She met Chris in 2015 and they enjoyed a love of music and Emma's love of the outdoors. Their daughter Erin was born in 2018 and they were married in 2019.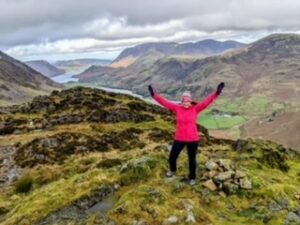 Walking was one of Emma's passions and she also attended the abcd retreat back in 2022 as we showed that even with metastatic breast cancer we can still exercise and do things we enjoyed.
I met Emma and her mum at the Halifax Darker Pink event with her mum also supporting her and the campaign.
As part of the Darker Pink campaign which is based on 31 women that die every day from the disease, she choose a very hard hitting message about how heart-breaking this disease is and how it will affect her family. I could relate to her experience after being diagnosed with breast cancer when my daughter was 5 months old. (video) https://metupuk.org.uk/darker-side-of-pink/#emma-saville
Chris connected with me when she was very poorly and it was a huge shock to hear that her health had deteriorated so quickly.
Emma died on the 20th July 2023 aged just 45 years young. Donations were made to METUPUK https://emmasaville.muchloved.com/ and we are thankful to Emma and her family for supporting our charity and the continuation of our campaigning for women like Emma.
Your voice will keep being heard Emma and we won't forget you.
Jo x
Founder METUPUK