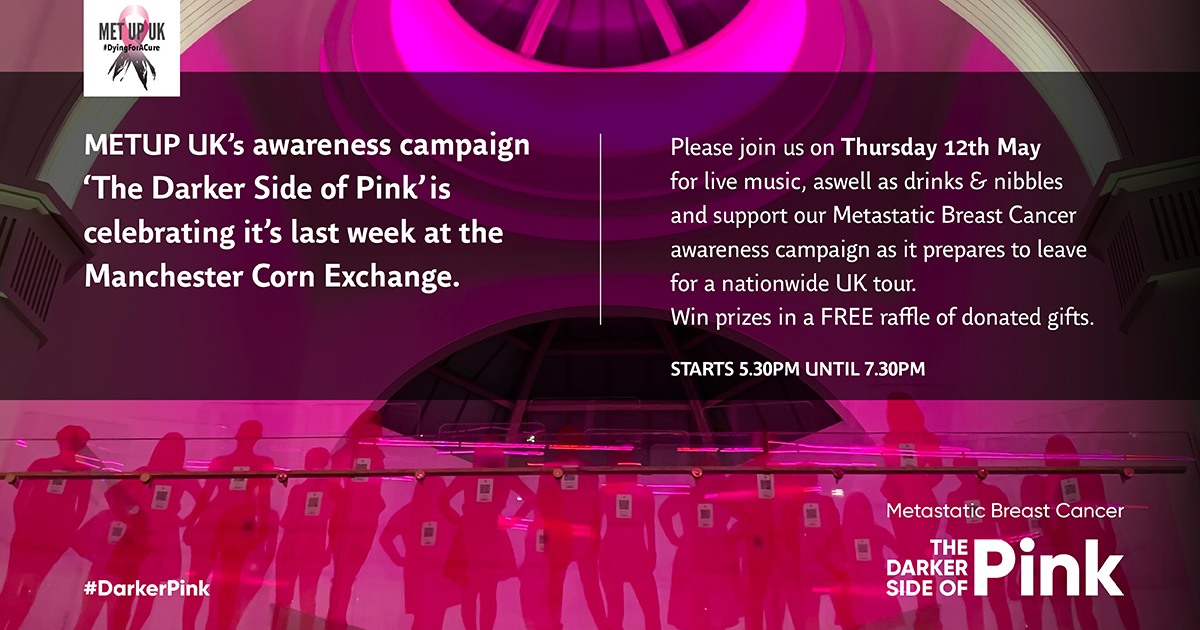 31 life size figures of women are now set to tour the UK as an interactive campaign to raise awareness of issues surrounding secondary breast cancer after a small residency with the support of The Corn Exchange in Manchester.
'The Darker Side of Pink' was launched in Breast Cancer Awareness Month by METUPUK – the country's only patient advocacy group dedicated to Metastatic Breast Cancer (MBC) – to expose the thoughts and frustrations of living with the disease, which kills 31 women in the UK every day.
MBC occurs when the cancer has travelled from the primary breast site through the blood or lymphatic system to a distant area of the body. When this happens, it becomes Stage 4 cancer and is an incurable disease. Amongst those diagnosed with early stage Breast Cancer, approximately 30% will go on to develop MBC.
The installation of Perspex silhouettes will be on display in shopping centres and public spaces in Manchester, Sheffield, Cambridge, Wales, Glasgow and Edinburgh over the coming year in a bid to ensure that MBC doesn't get forgotten, when people all over the UK show their support for those affected by breast cancer in October for Breast Cancer Awareness Month.
Each of the 'Invisible Women' show a QR code, which can be scanned by members of the public to reveal videos telling the individual statements of 31 of the group's advocates.
During the short time the campaign has been running, two of the women filmed back in September 2021 have sadly died – reinforcing the importance of the campaign.
Founder of METUPUK, Jo Taylor, said: "Breast Cancer awareness is a hugely important and valuable to many women. However, a lot of it is delivered in a fluffy pink narrative to make the tough subject of cancer more digestible for the masses."
"The uncomfortable truth is that metastatic breast cancer is incurable and killing hundreds of our mothers, sisters, daughters and friends every month. It's a disease that can't be sugar-coated and is severely under-represented in the global conversation around breast cancer. We're passionate about changing the narrative to ensure that every woman facing secondary breast cancer is supported and valued."
METUPUK is campaigning for MBC to be recognised as a disease that you can live with longterm, as opposed to an incurable disease. The group has three core objectives – to increase awareness and education surrounding MBC; to lobby for more research and speed up access to drugs; and to improve patient treatment and care.
Jo continued: "MBC exists in the shadows of the Pink Ribbon campaigns and we want to challenge the status quo to improve quality of life for those who are diagnosed.
"It all starts with education, and I'd encourage anyone lucky enough to see The Darker Side of Pink installation to take the time to listen to the challenges faced by those involved. Only once more people recognise the reality of MBC can the invisible women facing the disease feel truly seen and heard."
Videos are all available to view on https://metupuk.org.uk/darker-side-of-pink/ and will be re-shared across all METUPUK's social media platforms.