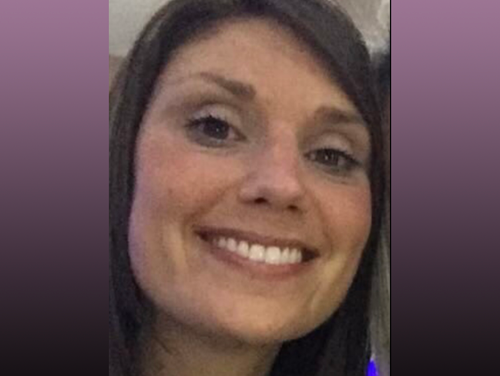 I met Jo 3 years ago at the Conservative Party conference as we were both involved with the Breast Cancer Care (BCC) conference stand.  When we met we realised we shared a passion to improve things for secondary breast cancer (SBC) patients.  The BCC stand had a very odd visual with a "hump bridge" for problems ahead – this looked like breasts (some people only have one or some have no breasts) and it didn't capture the loneliness, fear, isolation and the feel of being written off and ignored, and the fact that there is so little data on SBC patients and little awareness of it as a killer disease.  A few of us in the initial discussions of the concept on the stand complained about this and another idea by the patient group was discussed and this new concept was approved instead.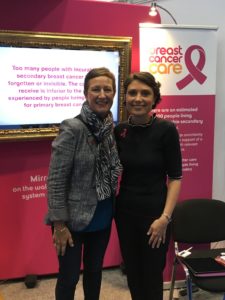 We had lots to talk about when we met, and I explained about what I was doing with METUPUK.  METUPUK was quite new but Jo was very interested in our message and why we needed this new advocacy and activism group.
The group grew but Jo still tried to influence Breast Cancer Care, the APPGBC and later Breast Cancer Now after the amalgamation of Breast Cancer Care and Breast Cancer Now – being involved with their campaigns as a voice of a patient living with Secondary Breast Cancer.

She talked about her experience and shared her story and I remember being interviewed on TV about what happened to her.  She did ALL she could and more to highlight the bad experience she had herself so that others didn't have the same problem of late diagnosis.  This year, even when ill and before the #IAmThe31 campaign was launched for Breast Cancer Awareness Month, I mentioned the 31 campaign to her and that we were doing a 3.1 or 31 related fund raising, incredibly she decided to fund raise for METUPUK with 3.1 mile run/walk/crawl to represent our 31 who die every day from SBC.  She raised over £4000 for METUPUK which will be used to focus on our aims, objectives and strategy.
I'm disappointed and so was Jo with the lack of any action and accountability even when patients shared their stories with charities.  We wanted change, we wanted improvement and sadly this just never happened.  A perfect poster girl for the campaigns with the other groups she worked with, we have now had 5 women die who were involved in the Breast Cancer Now Secondary Breast Cancer Group.  Tracey, Beth, Mel, Carolyn and now Jo.
The talks with the APPGBC chair Craig Tracey and the meetings and discussions with MPs – where has it got us, where has it got any of us?  We are still dying, and no one is coming to save us.  We have to save ourselves.  This was what Jo realized.  Many of us know this and our voices are loud, but we are still not being listened to and 31 of us continue to die each day in the UK..
That's why people are now looking at METUPUK and the work we are doing to make change, to progress awareness of the infographic and red flag symptoms.  To make changes to help us to live longer and be #BusyLivingWithMets for a longer time.  To be involved in clinical trials and having patient involvement in designs.  The push on data and statistics.  You will see a report out soon that METUPUK has been involved in.  This has only happened due to one thing – our collective passion as patients to try to make change happen.  Our oncologists and teams need the tools to support patients living longer, get the best access to drugs, clinical trials, surgeries and radiotherapies.  If we don't get these things, then we will die sooner than we should.
I'm angry and sad that Jo died recently because she was failed by charities, APPGBC, NHS and the systems that should have put their arms around her and supported her at the only time she needed help.
We talk about being invisible, but they are perpetuating the problem by making us invisible.
We Demand Change.
Love you Jo x