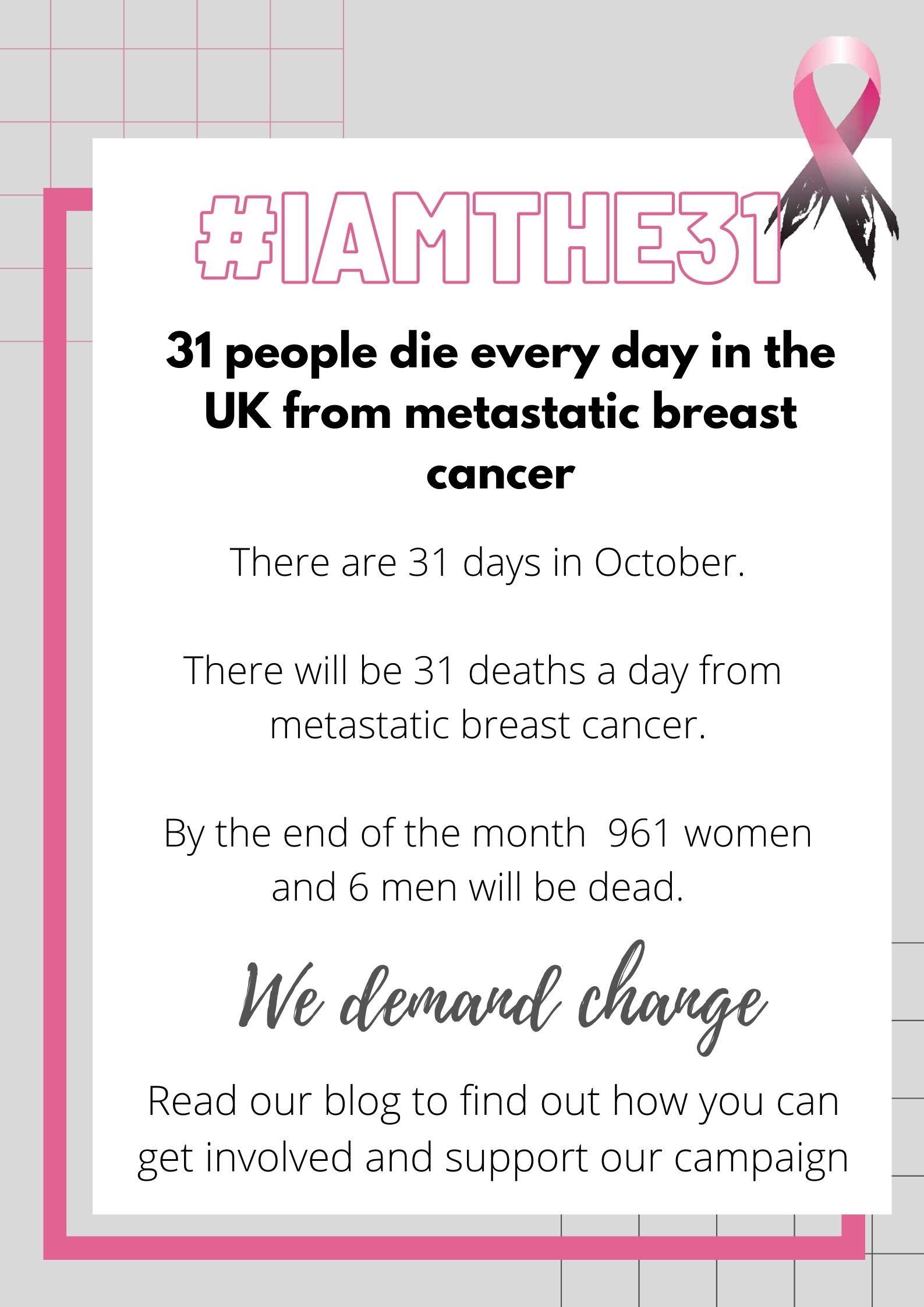 #IAmThe31
31 women die every day in the UK is our reality.
This campaign is for October Breast Cancer Awareness Month.
31 days in October, 31 deaths every day, by the end of the month 961 women and 6 men will be dead.  SBC is the biggest killer of women under 50 in the UK
Around 30% of women will develop secondary (metastatic) breast cancer sometimes up to 20 years later.  Awareness, research, funding and access to drugs can change these numbers.
13th October is officially Secondary Breast Cancer Day – the only day in Breast Cancer Awareness Month that officially recognizes secondary (metastatic) breast cancer.
The pink fluffy narrative needs to be addressed by creating awareness every day for those people who are dying.  We.Demand.Change. for people in the U.K.
Pinkification of October and BCAM makes the disease seem OK "doable" and in turn makes breast cancer seem an "easy cancer".  No cancer is easy.
We all need to know the reality, the signs and symptoms, the red flag warnings.  http://metupuk.org.uk/about-us/red-flag-sbcinfographic/
Our video will be launched on the 13th but for the 31 days in October if you could help by raising this important message.
One idea is to share our social media posts to 31 people.  An easy way to help us.
You can additionally support us & raise awareness by fundraising and remember to attach 31 to something you do eg maybe walk or jog 3.1 miles, skip 31 times, or read 31 books.  Do 31 days of yoga.  Do 31 kind things for 31 friends and family!  Post of photo or share what you have done and tag in #IAmThe31
We need to share the 31 number in the message, giving visibility to the invisible community.
Here is our link, we are a non profit organization and all money will go to fulfill our aims and objectives not to pay wages, we do this through our collective passion for change.
See our link to the donation page here http://metupuk.org.uk/help-us/
Thank you – we appreciate your support.
Jo Taylor
Founder of Metupuk