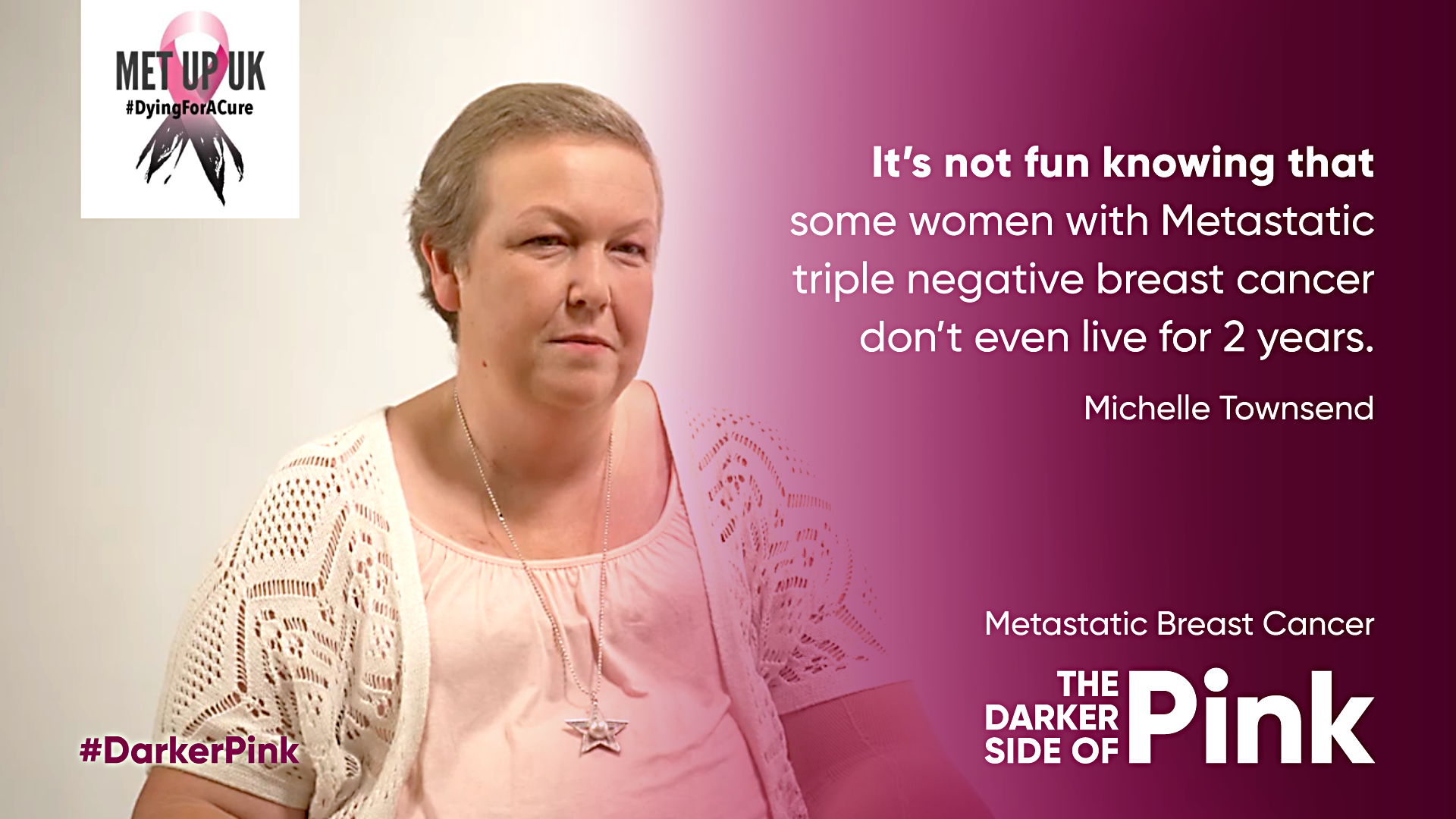 Name: Michelle Townsend
Region: West Yorkshire
Diagnosis: August 2016 I was diagnosed with her2+ breast cancer in my right breast. In August 2018 I was diagnosed with another primary breast cancer. This time is was triple negative breast cancer. In January 2020, I was diagnosed with triple negative MBC with multiple tumours in and around the lungs and thorax
Hi my name is Michelle
I am a mum to five, ages ranging from 11-28 and two step children.
I live with my partner and four of my children, one of them is married and they have a child who lives with us too, a very busy house.
In august 2016 I was diagnosed with her2+ breast cancer in my right breast, I had a lumpectomy, six months of chemo which almost killed me due to blood clots and 18 radiotherapy sessions. I was told I was cured and to go live my life.
In august 2018 I noticed a small dimple in the crease of my right breast, I got back in touch with breast team and were seen straight away, mammograms and ultrasounds were given and I was told I was all clear, BUT something was nagging me and there was a definite dimple, I phoned breast team again and asked for a biopsy after lots of phone calls from me to pals etc it was agreed I could have a biopsy to put my mind at rest, this came back positive for triple negative breast cancer!
Another primary of a different type, ALWAYS TRUST YOUR BODY!!! this time I was given a mastectomy, six months of chemo and again 18 radiotherapy sessions as it was other side, again told I was cured and just very unlucky. I even had the predict scores done for me which showed less than a 5% chance of me getting anything again.
Fast forward to Jan 2020, I had just stared a new job and was starting to live life again, then covid hit, I started with a cough that just wouldn't go so dr sent me for chest X-ray thinking chest infection, they told me to wait in waiting room after and I was then sent for CT scan, by now I'm wandering what's going on and thinking I had COVID, nothing prepared me for the shock of what the dr said next, I'm afraid you have multiple tumours in and around your lungs and thorax!
As it was beginning of covid I was given this news alone and had to travel home and break the news to my family that I was now stage four and incurable.
Tests showed this was triple negative that had spread the one that no one wants as it's so hard to treat.
Fast forward to today, I am currently on tecentric and neb paclitaxol and am stable but at the back of my mind as all stage four ladies are the thoughts and knowledge that I will never be cured and cancer will cut my life short, robbing me of seeing my children grow and flourish.
And hearing daily to stay strong and people asking how much treatment I have left, as lots don't understand it's for life.
Twitter – amamyb
Public fb – Anne Cargill / thatchickwithcancer
Tiktok – thatchickwithcancer
Instagram – thatchickwithcancer