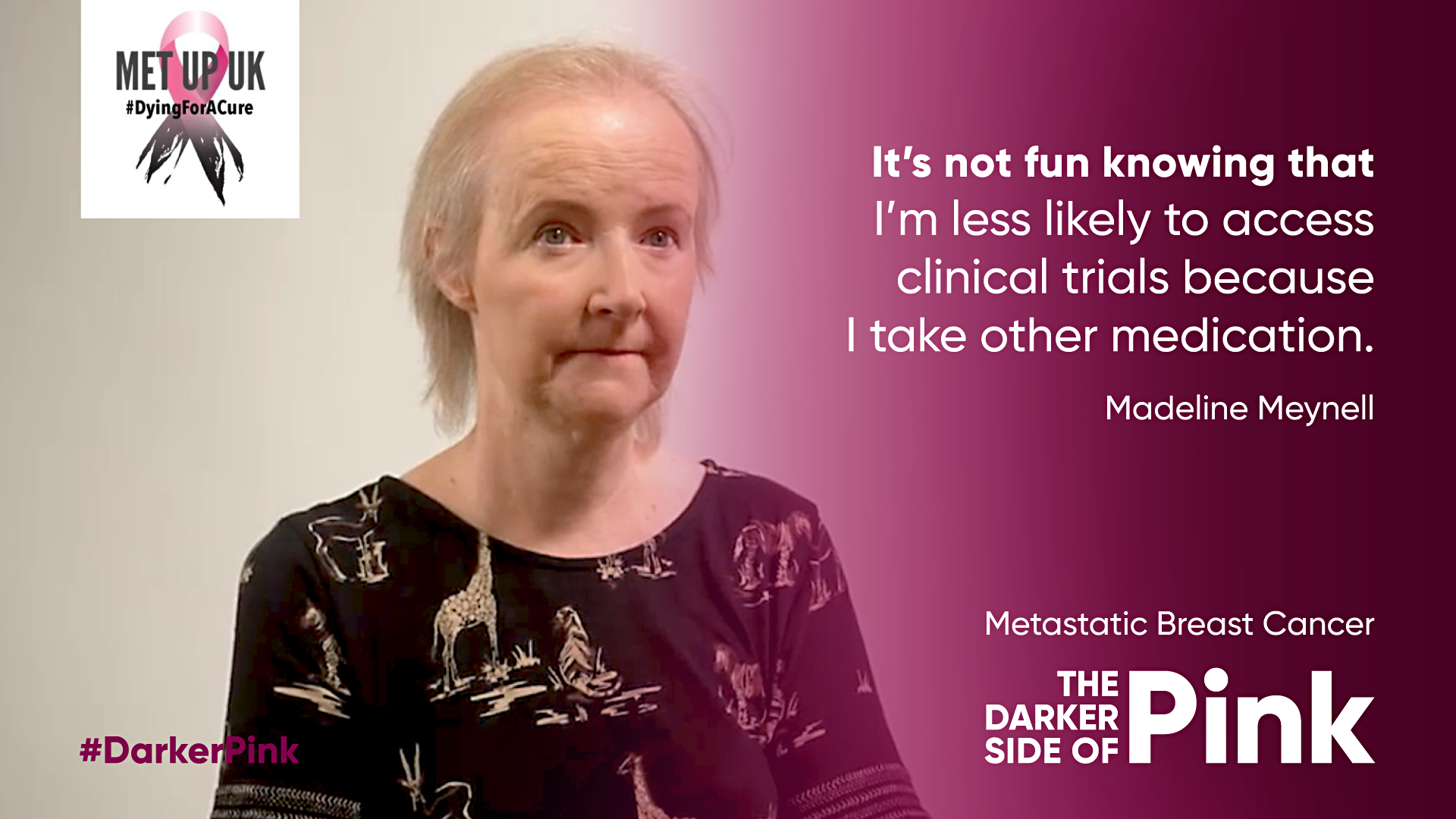 Name: Madeleine Meynell
Age: 49
Region: London

Diagnosis: (i.e When diagnosed primary, When diagnosed mets, Or denovo, What disease type – HER2+/- ER-/ER+ or TNBC or IBC)
Age at Diagnosis: 43
Hi my name is Madeleine.  I'm married and live with my husband, two young adult children who are at Uni and my cockapoo Patch.
I was diagnosed at the age of 43 in late 2015 with HER2+ weakly ER+ primary breast cancer.  I had a mastectomy, FEC-T chemo with trastuzumab and radiotherapy followed by tamoxifen.  I went back to Uni in October 2016 to finish the final year of my optometry degree.  
After graduating in 2017, I started work but within a few months I noticed a weakness in my right hand and then found a lump in the dip of my right collarbone.  In early 2018 it was confirmed my cancer had returned to my supraclavicular lymph nodes.  My metastatic breast cancer was now HER2+ and ER- so I stopped tamoxifen.  My oncologist noted that because my final trastuzumab was 9 months earlier I did not qualify for pertuzumab, although she felt I would benefit from this.  
If I could hold off systemic treatment until I reached 12 months she could stretch the rules to prescribe both trastuzumab and pertuzumab.  As my cancer was in an area which had not been previously treated with radiotherapy, I was able to have local treatment.  
The radiotherapy was very successful but in the three month period without systemic treatment my cancer spread extensively.  In fact I became so unwell with fluid on my lungs that I needed a hospital admission.
I was started on six cycles of docetaxel with trastuzumab and pertuzumab ongoing.  I had a good partial response to treatment.  I have now been on this treatment for three years.  After one year I had progression to the brain which was treated with stereotactic radiotherapy.  I am now scanned every four months.
I became interested in patient advocacy after realising that for primary treatment I was given every treatment that I needed.  However, once my cancer became incurable there were barriers and arbitrary rules.  Even now there are geographical disparities.  
The stereotactic radiotherapy I received for my brain mets is not available to all patients who could benefit.  Where not available patients are offered whole brain radiotherapy which has greater side effects.  
Why you wanted to be involved with the MetUpUK campaign: My aim is for all UK patients to have access to the best care available.  However, even with best available care metastatic breast cancer is still a terminal disease.  We need more investment to make metastatic breast cancer a disease we live with well rather die early from.