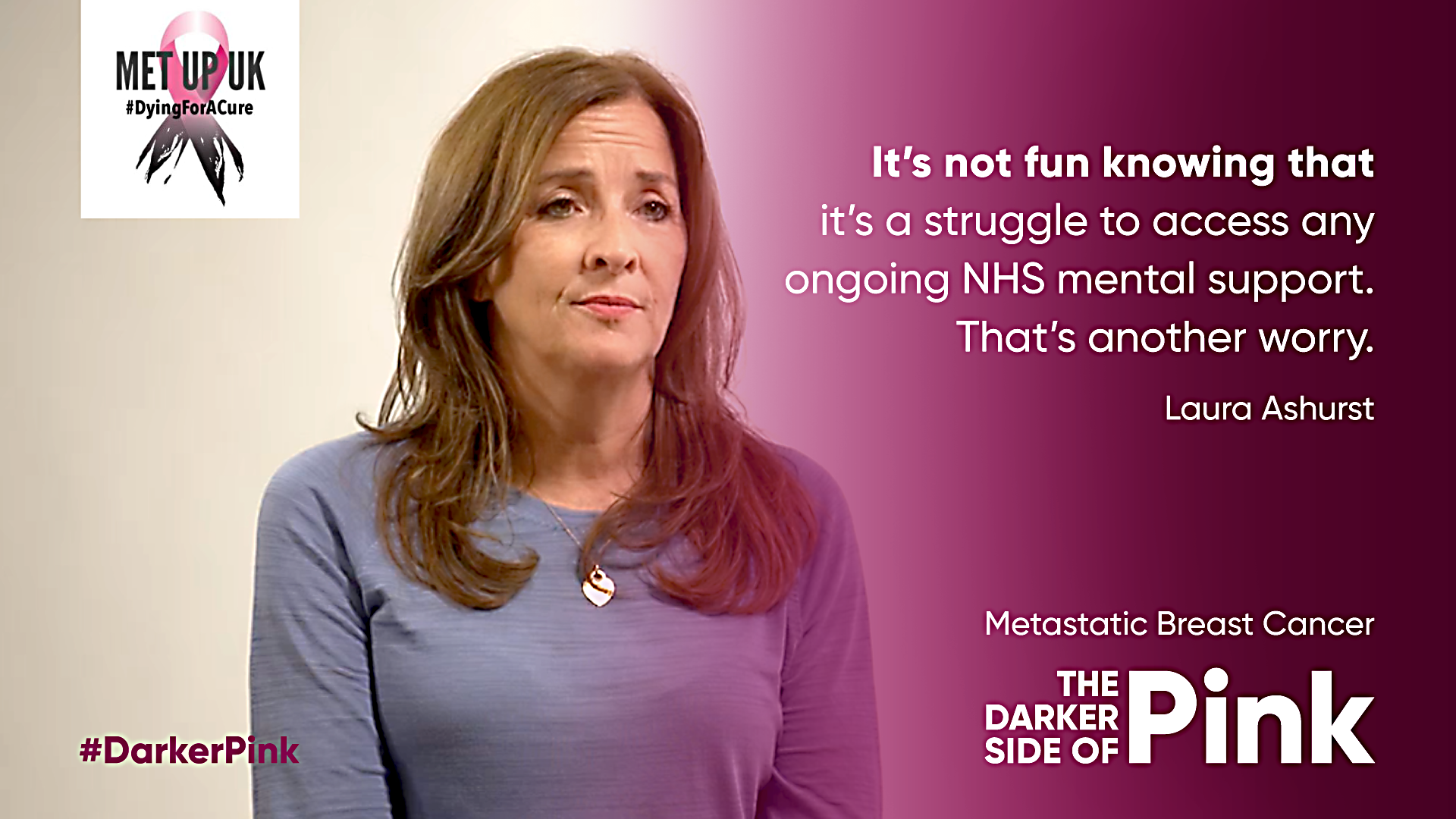 Name: Laura Ashurst
Age: 53
Region: Stokesley, North Yorkshire.

Diagnosis: Two primary DX: September 2001 and September 2004 ER+ MBC DX: December 2007 Lungs and pleural lining ER+
Age at Diagnosis: First primary breast cancer: 34, Second primary breast cancer: 37, Metastatic Breast Cancer: 40
Hi my name is Laura. I am married to Paul for almost 30 years. We have two children. Megan is 23 and Jack is 20.
Jack was only 6 months old and Megan was three when I was diagnosed with my first primary breast cancer aged 34. I was shocked, to say the least, because back then I thought it was only people much older than me who developed breast cancer. I was totally naive.
The lymph node sampling showed no evidence of cancer so it was decided that I should have a lumpectomy and 25 sessions of radiotherapy. Three years later, another primary breast cancer tumour developed along my lumpectomy scar line. This was described as a totally separate tumour which was much more aggressive than the first tumour. I was advised to have a mastectomy and because I had already had radiotherapy to my right breast, I was offered the opportunity to have reconstructive surgery on the same day as my mastectomy.
I awoke from surgery to a reconstructed breast using an implant and part of the latissimus dorsi muscle and tissue from my back.
I thought this would be the end of my breast cancer experience because I was completely ignorant as to how secondary breast cancer developed and so I was absolutely not prepared for the news that I was given, two weeks before Christmas in December 2007, that my breast cancer had spread to my lungs and pleural lining and that I had 3-6 months to live if I chose not to have chemotherapy and up to two years if I chose chemotherapy. (Many of the drugs that are available now to hold back the growth of metastasised oestrogen positive breast cancer were not available then and so I think this influenced the prognosis that my oncologist gave me).
I was offered six cycles of FEC and told that I would be on chemotherapy for the rest of whatever life I had left. I was utterly devastated. Partway through the course of FEC, I underwent four days of radiotherapy to my ovaries to stop their functioning which put me into immediate menopause. The impact of this was devasting too on my cognitive functioning.
The impact of this emotional trauma caused a severe decline in my mental health. I was totally unprepared for and uninformed about the signs and symptoms of secondary breast cancer. This meant that I thought that the breathlessness that I'd been experiencing in the six months leading up to my secondary breast cancer diagnosis was simply an indication that I needed to improve my fitness levels.
I had 18 weeks of chemotherapy which proved to be ineffective at controlling the growth of my metastatic disease. A number of factors including my weight loss and severe mental decline meant that I wasn't strong enough to embark on more chemotherapy at that point so my oncologist prescribed the aromatase inhibitor drug Letrozole. It is this drug that has halted the growth of my metastatic disease. It has been working for 13.5 years to control the cancer. I have Zometa bone infusions to strengthen my bones which have become osteoporotic due to long term exposure to Letrozole.
Whilst I am very much aware that my current status can change at any time, I am extremely grateful that Letrozole is working for me at the moment. It has given me the chance to see my children grow into young adults, something that many of my friends who were diagnosed with secondary breast cancer at the same time as me, did not get to do. It is unusual that I have responded in the way that I have to the Letrozole. I am thankful every day that it is currently working to control the cancer but my anxiety levels are continually heightened, wondering when it is going to stop working.
Why you wanted to be involved in the campaign? I wanted to be involved in the MetUpUk campaign because it is an opportunity to highlight the devastating impact of secondary breast cancer and the need for greater support, speedier access to drugs, and better education and understanding about the form of breast cancer that kills 31 people every day in the UK. MetUpUk's voice has an enormous reach and I want to be part of that voice to help people who are diagnosed with this disease to know they are not alone, and that they are visible although many of the debilitating side effects of treatment may not be. I am passionate about highlighting its impact on the ability to function well mentally. The impact of breast cancer on mental health is still not given the support it needs. I hope that this campaign will help to highlight this too.
The campaign is a unique opportunity to really make people sit up and listen and acknowledge our existence and to better understand the impact of this disease and its effect upon peoples' lives.
Twitter: @lwhlaura
Public Facebook: @lauraashurst
Instagram: @lauraashurst_lwh
Business Facebook: Living With Hope: @lwhlaura
Blog/website: www.lauraashurst.com