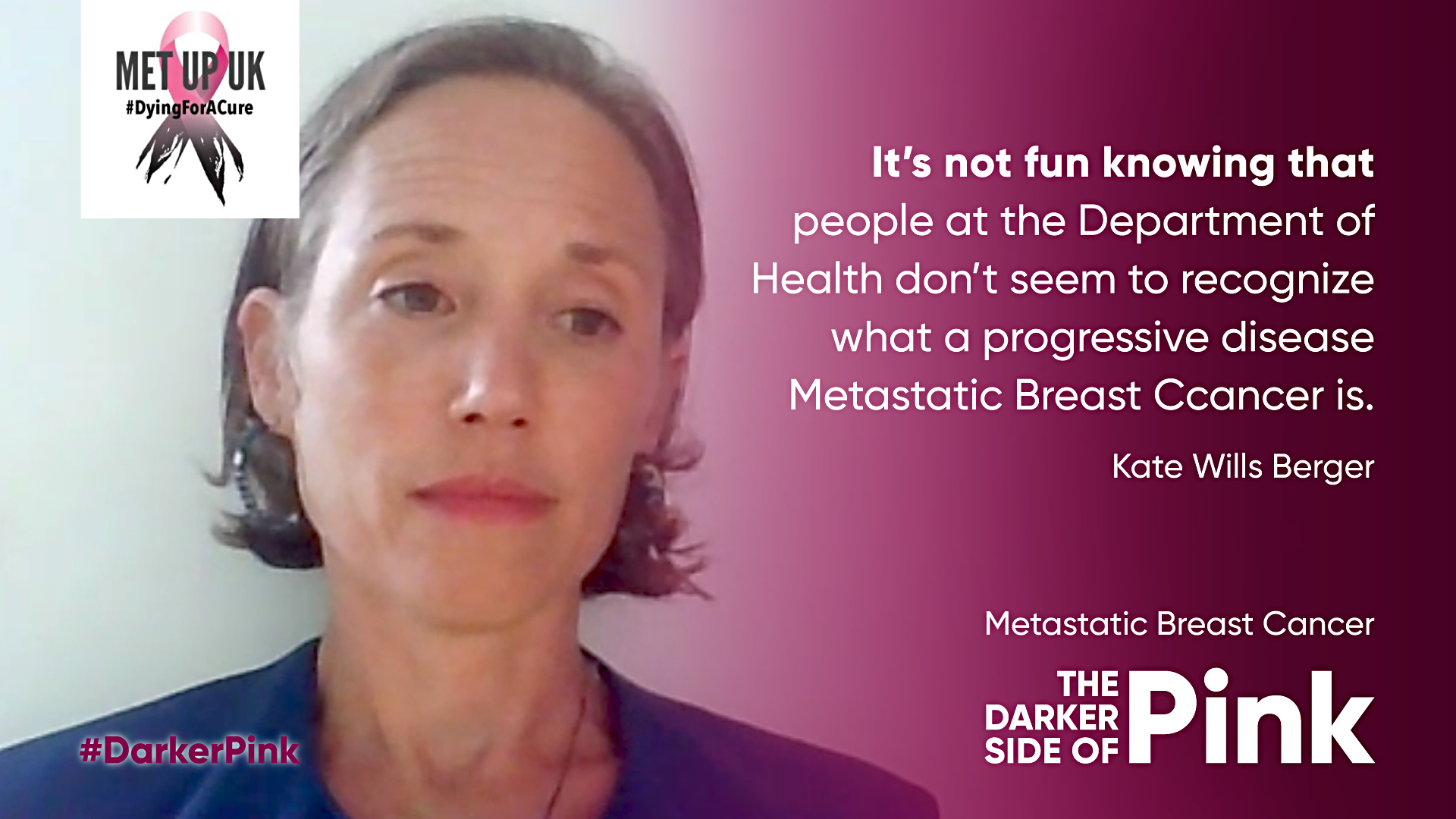 Name:  Kate Wills 
Age:  46
Region:  London – Finchley

Diagnosis: (i.e When diagnosed primary, When diagnosed mets, Or denovo, What disease type – HER2+/- ER-/ER+ or TNBC or IBC)
I was diagnosed with primary breast cancer in Sept 2011 aged just 36.  2 tumours.  Grade 3 both ER8 PR8 and Her2+.  It had spread to one lymph node.  I had a right mastectomy.  Followed by FEC, weekly Taxol and then Herceptin.  In 2012 I started on Tamoxifen. 
In December 2020, aged 45 I was on a family cycle ride, put my foot down on the pedal and my hip broke.  Agony.  It was the christmas holidays middle of the covid crisis.  They quickly guessed it was cancer due to the break.  Scans showed it had spread to my femur, rib and sternum as well as a small nodule in the lung.  The cancer had changed to ER+HER-.   
I had had an ache in my hip and ribs for a few months but put it down to running and working from home on a dodgy garden chair.  I'd been to the osteopath who'd said he thought it was unlikely to be the cancer back.
After 10 days in hospital having a rod put in my leg, I returned to recover for 2 weeks then started a weeks radiotherapy on my leg.  Holding other radiotherapy back for later.  I am currently on zoladex giving me a medical menopause, letrozole, ribocyclib and denosumab.  
9 months on I've had two scans showing stability.
I am 46 live in North London with my husband, 16 yr old son and 12 yr old daughter – dog Juno, senile aged cat Buzz who I am proud is 24!  and youngster cat Cotton who is 2. 
I work in NGO communications, advocacy and campaigns – previously for Unicef  Im currently leading a global malaria campaign to end the world's oldest deadliest disease!  I passionately believe in doing all I can to change the world for the better – to help make it more equitable and sustainable.
My first cancer came when I was freelance.  The kids were 2 and 7.  I took a year out for treatment.  At the other end I chose to seize my new reality – to see a world in richer technicolour than I'd ever seen before.  That first cancer made me braver, bolder – I leapt into cold water, travelled the world, found strength I never knew I had, took my kids backpacking round South America – a highlight!
I didnt realise how completely i believed it had gone.  I followed cancer a little, I thought I knew enough about what symptoms to look out for…  to be honest – and I hate saying this – I found it too scary to talk SBC, scary when I met others who had it.  I feel shame about this and cross as I wasn't helped to think about it and manage these fears so instead I stuck my head in the sand.  Ignorance is never the way.
When i started to realise in A&E that the cancer was most likely back I tried so hard to deny it – to say it must be osteoporosis.  But I knew.  To be honest I thought i'd have very little time then and there.  
I realise that I had heard that once secondary presented in symptoms it was in someways too late.
9 months on I have heard better things that I hold dearly to.  I hear that it's possible to live for a long time.  I hear it's good to try and live in harmony with cancer rather than fight it.  Fighting it seems exhausting.  I heard that chronic could be possible.  
But as I start to wise up I also am terrified to hear the percentages of funds that go to secondary research.  I hear so much about primary being prioritised.  I know my treatment lines are limited.  I seem just to have to hope so hard that the treatments last for long enough.  
I see so many women around me similar age, younger – we have so much life that we want to live – so much we want to contribute to the world, to life… to our families.  I want to see my kids through school, through uni, I want to be there for them as they go out into the world, to meet grandchildren even!  I wanted to canoe off into retirement, to have chickens!  I have so much I want to do, so many adventures.  I am so hungry to Live.
Why you wanted to be involved with the MetUpUK campaign:
8 months on from secondary diagnosis I realised I needed to be brave, breathe and to try and get wise to what treatments were out there – what I might need to fight to get.  I put my head above the parapet and spotted you!  
This campaign is so important because we need to talk more about secondary.  We need to address the stigma around it.  We need to demand that more funding goes to secondary.  That the conversation includes us – we're not just pink washed out of it.  That we are not deprioritised once we metastasize.  That the pink light of awareness spreads to us and urgently means that we can go from living in such fear to knowing we can live with SBC!