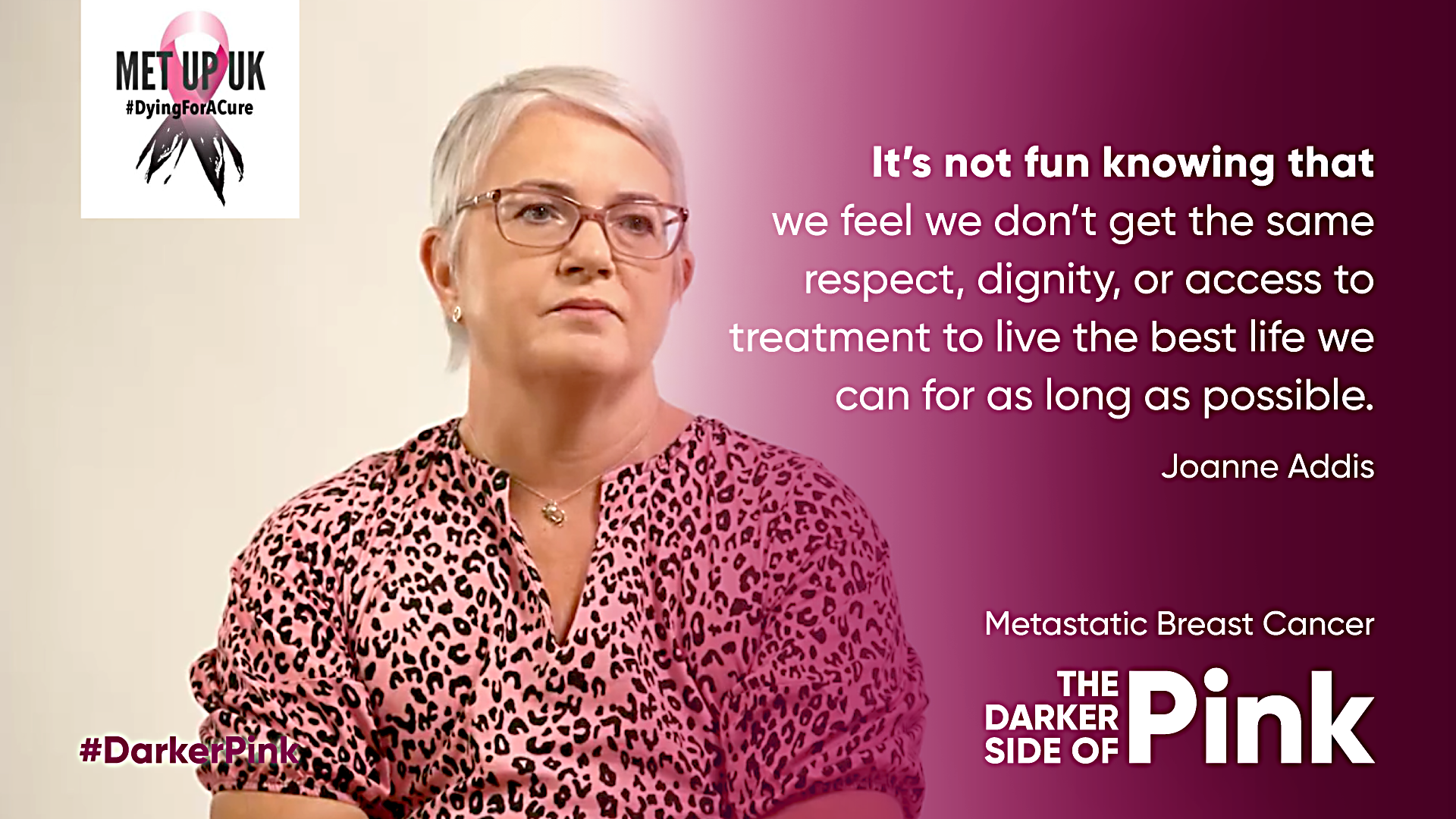 Name: Joanne Addis
Age: 55
Region: Manchester
Diagnosis: Primary DX – February 2017. MBC DX – April 2017. HER2- & ER+ PR+ Invasive Lobular Metastatic Breast Cancer to the bones 
Age at Diagnosis: 51
I'm Joanne. I live in Stockport near Manchester with my husband Volkan, George and Valerie, our dogs and various children, stepchildren, boyfriends, girlfriends – you get the picture!
I was diagnosed with primary bc in February 2017, had a mastectomy and then 6 days later after being violently ill it was discovered the cancer had already spread to my bones, peritoneum, ovaries and fallopian tubes. Whilst I was being operated on to fit a stoma and kidney stents I believe the breast surgeon, who was contacted, was heard to say 'how did we let this happen?'. Indeed……
I transfered to The Christie in May 2017 and started a treatment plan of palbociclib, letrozole and denosumab injections. I have been stable ever since and any cancer in my peritoneum, ovaries and fallopian tubes no longer registers on the scans. I was forced to take a three month treatment break at the start of the Covid pandemic but luckily emerged from that stable.
I have a very positive mindset and even though my bones ache so much some days I could cry, I get myself up and keep going, I refuse to be defined by my cancer. I have gotten married since my diagnosis and visited Japan, Australia and a host of European countries – did you know if you have a blue badge you can get your 'carer' in for free at Disneyland Paris and queue jump! We felt like the Kardashians.
I am fond of a treat, a red lipstick and a good pair of trainers.
Why you wanted to be involved with the MetUpUK campaign: I didn't even know metastatic breast cancer was a thing until I was diagnosed with it. We need to raise awareness. Metupuk is giving patients a voice, i love the way they are doing that and I am excited to see how far we as a group of passionate people can take that voice.