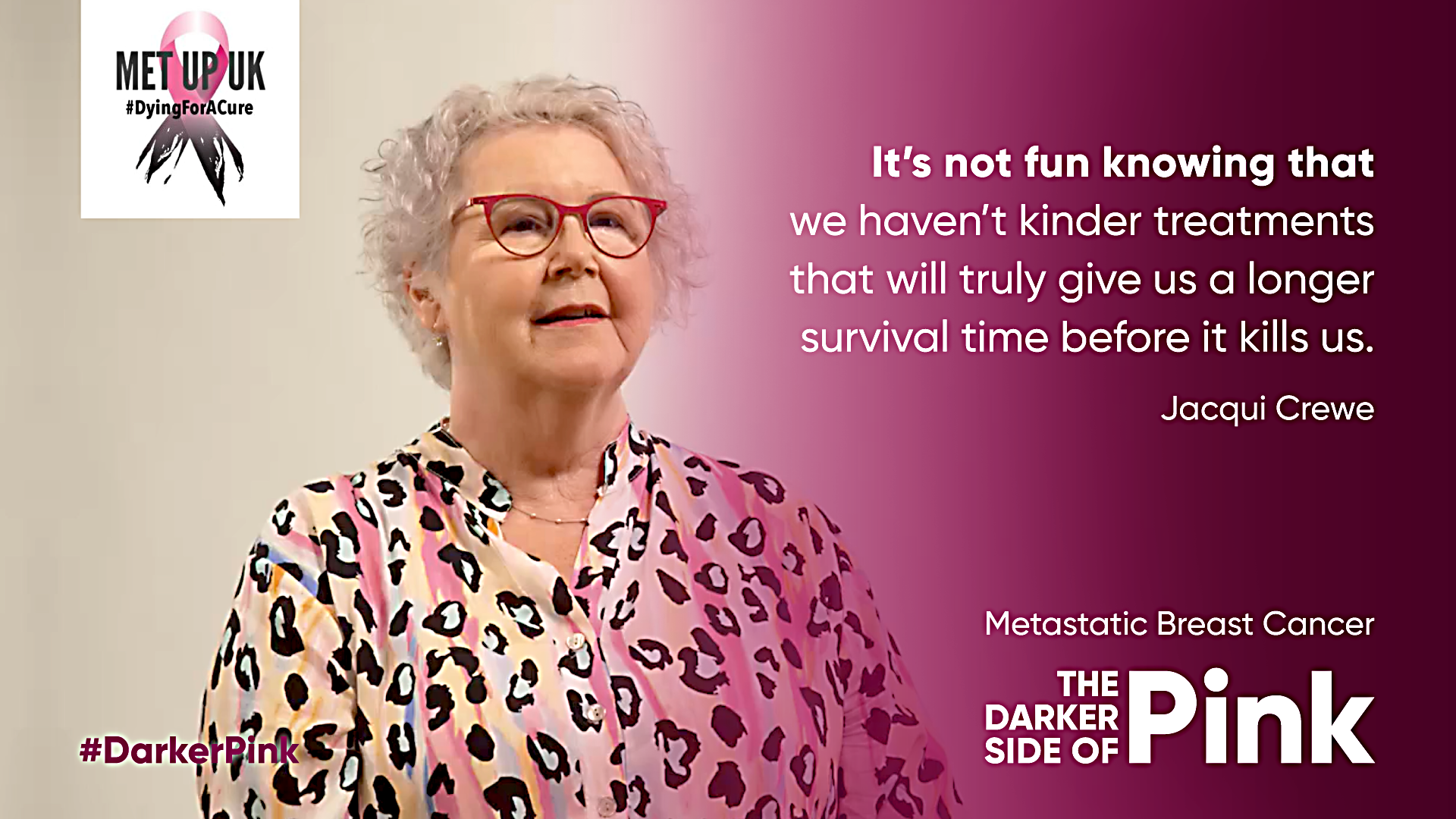 Name: Jacqui Crewe 
Age: 63
Region: Shropshire 

Age at Diagnosis: 48
Hi my name is Jacqui. I'm from Shropshire. 
I was diagnosed with primary breast cancer in 2006. I was 48. The treatment plan was lumpectomy, chemo, followed by radiotherapy. This was so hard as I was newly divorced with 3 young boys to bring up. Father useless. It was the most challenging time of my life. No question. Breaking that news to my family was the most upsetting part. The fact that I could beat this made the treatment bearable. A means to an end. My hair came out and it was summertime so decided not to go down the wig route. Instead I chose some lovely colourful scarves. 
My bc was ER+ grade2. 
Radiotherapy followed I found it to be quick and painless experience although the fatigue was a little debilitating. 
I was now taking tamoxifen, which I was told would be for 10 years. I struggled with that drug because it seemed to exacerbate the enforced menopause that had been brought upon me and all the joys that had to offer. Breast cancer. The gift that keeps on giving!!!!  I did find an alternative eventually. 
Months came and went and I even started to feel normal again. I had annual check ups which was always positive. As I approached the magic 5 year mark i had become very confident of the future. Oncology team making noises about signing me off. No trace of cancer. 6th year fine still had annual checkup. By this stage I was having some discomfort in my chest. I was due for a checkup where I brought up my issues. Doctor didn't seem particularly concerned just said probably due to some inflammation from previous radiotherapy. His main concern was signing me off. 
A few weeks later I was in terrific pain in sternum so much so I couldn't sleep on my right side. Off I went to gp in agony not having slept for days. She was amazing. Referred me to muscle skeletal department at orthopedic hospital. After a biopsy it was diagnosed as stage4 breast cancer that had gone to my sternum- now this was a lot to take in. 
Not curable but treatable 
Palliative care
Metastatic
Stage4
Secondary breast cancer 
I was drowning in a language I didn't know. 
I'm dying. It's game over. I can't tell you how lonely and isolated I felt.
Treatment was radiotherapy. Which really helped with the pain and reduced tumour. 
My mental health suffered, and I was referred to a councillor. Slowly I came to terms with it and was reassured as I had results of 3 monthly scans that showed everything is stable. The year is 2013.
I took hormone blockers and carried on quite well until 2019 when I came across a lump just above my collarbone after getting it checked out I was diagnosed with progression of disease. 
Treatment ensued. Chemo ( paclitaxel) weekly for 5 months. I was hospitalised with pneumonia and CORONA VIRUS hit. March 2020. It was a very scary time. I was so worried I would have my treatment stopped. My oncologist called to say on contrary we are putting you on Targeted treatment. The best way it was described to me was that where as chemotherapy zaps all cells in body the targeted therapy seeks out only breast cancer cells and zaps those. Much gentler. So fulvestrent injections. Ribicilib tablets and zometa infusion all monthly so nearly 18 months on and I'm tolerating drugs very well. I lurch from 3 monthly scans to the next (scanxiety). It's always an anxious time but I'm still here believing in my treatment.