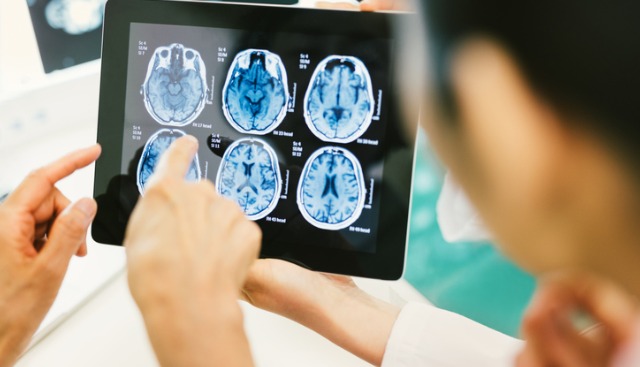 To follow on from the post about the death of Leila, I would like to highlight some information about brain metastases and just a quick look on google provided this information. 
This meta analysis was taking all other research and pulling it into one research document.  Who is taking any notice of this? 
The incidence of brain metastases among patients with metastatic breast cancer: a systematic review and meta-analysis https://academic.oup.com/neuro-oncology/article-abstract/23/6/894/6046194?redirectedFrom=fulltext
The pooled cumulative incidence of brain metastases was 31% for the HER2+ subgroup (median follow-up: 30.7 months, IQR: 24.0–34.0), 32% for the triple negative subgroup (median follow-up: 32.8 months, IQR: 18.5–40.6), and 15% among patients with HR+/HER2− MBC 
Conclusion
There is a high incidence of brain metastases among patients with HER2+ and triple negative MBC. The utility of a brain metastases screening program warrants investigation in these populations
We have a conclusive piece that says a brain screening program is needed in these populations.
Why is no one addressing this?  We need a pathway for ALL MBC patients in these subgroups to have a yearly brain MRI.  It is not acceptable that this is not happening.  If this doesn't happen, we will continue to have LATE diagnosis where there are no interventions to help delay or stop further spread.  In the USA this is done yearly.  In Israel they scan every 3 months.  We Demand Change.
How are we going to be a leader in healthcare if we cannot do simple things like scan for problems?
We give everyone who has primary BC a yearly mammogram but then when SBC they don't get the right standard of care to support an earlier diagnosis?  This is so wrong.
Dr Nancy Lin in the USA provided this information in a piece for Targeted Oncology which asked specific for HER2+ patients:-
TARGETED ONCOLOGY: What is most challenging about treating patients with HER2-positive metastatic breast cancer with brain metastasis?
Lin: HER2-positive metastatic breast cancer is a disease that has changed in terms of its natural history over the past decade with the advent of anti-HER2 therapies. Over time, what we've discovered is that approximately half of patients who have HER2-positive metastatic disease will eventually develop cancer in the brain. These patients can survive much longer than they had historically and what that means is that one course of radiation or one course of local treatment is often not enough, and patients have repetitive rounds of CNS progression. We struggle to determine what the best treatment options are.
And we know the incidence of metastatic breast cancer with brain metastasis for TNBC the incidence is as high as 46%
So why are we still not doing anything about this?  Why is our charity Breast Cancer Now, the APPGBC, the NHS, policy makers and pharma all shouting from the rooftops that patients need to be scanned regular?  There seems to be a constant apathy.
I'm appalled that we go through systems to approve drugs, provide huge evidence but yet still are not screening for the issue of brain mets.
And the NHS still just give mammograms for primary patients when only 3% of these people will go onto develop a second primary cancer in the other breast? (see *above)
Where are the priorities?
We are a country in the G7 this means the below:-
The Group of Seven (G7) is an inter-governmental political forum consisting of Canada, France, Germany, Italy, Japan, the United Kingdom and the United States. Its members are the world's largest IMF advanced economies and wealthiest liberal democracies;[1][2] the group is officially organized around shared values of pluralism and representative government.[3] As of 2018, the G7 nations account for close to 60 percent of global net wealth ($317 trillion),[4] 32 to 46 percent of global gross domestic product,[n 1] and about 770 million people or 10 percent of the world's population.[5] Most members are great powers in global affairs and maintain mutually close economic, military, and diplomatic relations.
The United Kingdom, is part of one of the wealthiest, most powerful countries in the world and our healthcare is way behind a country like Israel. 
MBC patients are being left to die, inequalities across hospitals are killing us, we are invisible just like our campaign #DarkerPink confirmed and with the problems that COVID has caused, this is only going to get worse.  We will have more people with later stage diagnosis and their disease isn't being successfully supported in many cases.  Leila's case is probably one of them.  No scan therefore not checks and left until it is symptomatic.  Instead of being proactive and putting checks in place she was left and then the disease was that advanced that there is no way of going back.  Way too advanced for any drug to work.  And leptomeningeal brain metastase is also very hard to treat.  But even those with disease that can be treated to give better survival, better outcomes.  But we are not seeing this.
Why?
Because, unlike other countries we cannot access the drugs, access surgeries, access radiotherapies for maybe a single lung met, we can't access drugs for unmet needs like patients who have TNBC – yes there is a drug called Trodelvy but patients can't get access!
How is any of this going change is no one is listening?  In the words of the AIDS campaigners ACTUP Silence=Death
If we don't speak up and address these things, nothing is going to change.
We've seen this new "influencer" style of cancer patient and all I can say is "when are you going to help to change the actual problems in the system?"
When are you going to help make change for the Leila's of the world?
If you're serious about campaigning and making change then join METUPUK as that's what we do.  For Leila, Beth, Helen, Jo, Bex, Mary, Elaine, Sarah, Jenn, Marie and the rest of us who are sadly going to follow behind these women.
We need action NOW as we cannot wait any longer.
We Demand Change.