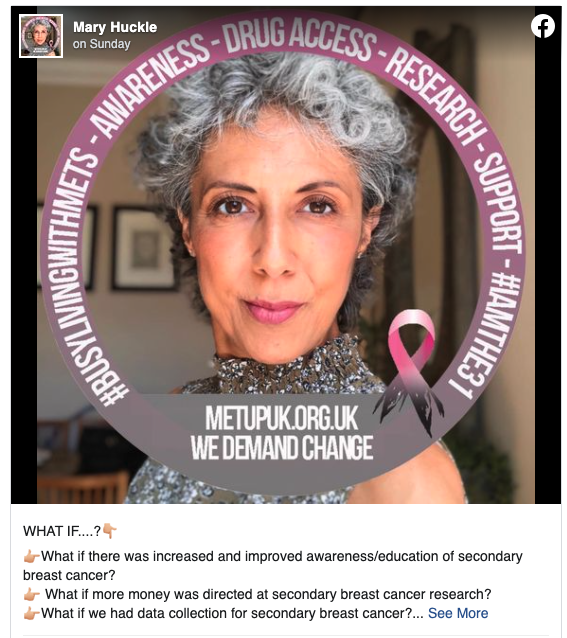 Mary Huckle, one of our members living with secondary breast cancer, shared an excellent Facebook post, drawing out many of the themes that METUP-UK is concerned with. We bring you the text here:
WHAT IF….?👇🏼
👉🏼What if there was increased and improved awareness/education of secondary breast cancer?
👉🏼 What if more money was directed at secondary breast cancer research?
👉🏼What if we had data collection for secondary breast cancer?
👉🏼What if all breast cancer charities focused more on SBC?
👉🏼What if GPs and oncologists had a duty of care to inform all primary patients of the red flag symptoms of SBC?
👉🏼What if primary patients weren't discharged from NHS care after 5 years in the clear?
👉🏼What if we had better screening and diagnostics?
👉🏼What if all primary and secondary patients were offered regular routine scans?
👉🏼What if we had improved all round NHS care and support for stage 4 cancer?
👉🏼What if geographical inequalities didn't exist?
👉🏼What if all secondary breast cancer patients had equal access to drugs?
👉🏼What if there were no disparities between NHS and private care?
👉🏼What if there was a central clinical trial database?
👉🏼What if secondary breast cancer patients weren't made to feel they are not worthy of living?
👉🏼What if we could live longer than the 2-5 year median?
👉🏼What if each and every one of us lobbied our local MP demanding change?
All the above would ultimately mean eradicating the fear of breast cancer. It would mean women and men living longer, possibly making the disease a long standing illness rather than a death sentence.
Make 2nds Count and METUP UK are two smaller charities/organisations who focus on shining a long, overdue light on secondary breast cancer. Please head over to their pages, and see what they do to help the thousands living the nightmare.
Thank you 🙏🏼