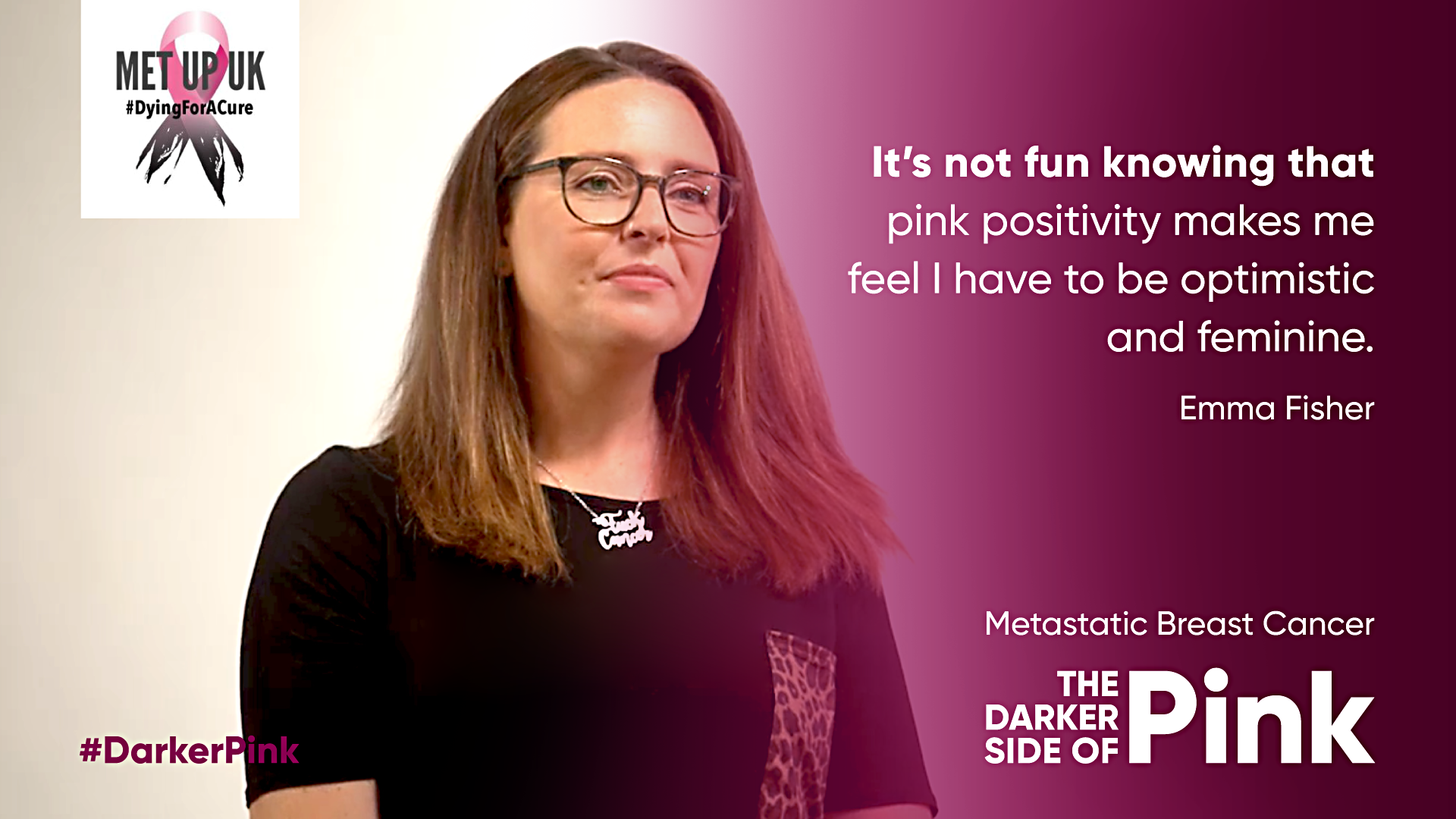 Name: Emma Fisher
Age: 40
Region: Yorkshire
Diagnosis: Primary DX – July 2016. MBC DX – Feb 2018. HER2 & ER+ Metastatic Breast Cancer to the bones and lymph nodes, HER2 & ER+
Age at Diagnosis: 35
(primary breast cancer) and 37 (secondary breast cancer)
Bio: Hi, my name is Emma. I live in Sheffield with my partner, Jim, and our two dogs, Flash and Melle.
In June 2016 one of my dogs, Flash, found a painful lump in my boob – I assumed it would be nothing, especially after the GP sent me away saying painful lumps were not cancerous. But it was cancer. So at 35, I ended up having a lumpectomy, two rounds of IVF, six months of chemotherapy, and 27 sessions of radiotherapy. I finished treatment in May 2017 and promptly went on holiday (the day my rads finished) eager to get on with my life.
Unfortunately, this didn't transpire and just eight months after finishing treatment, in early 2018, I broke my sternum while snowboarding in California. It was at this point we found out that the cancer had returned in my bones (the sternum bone that I broke on the mountains) and in the lymph nodes around my chest, and is now incurable.
Since my metastatic diagnosis, I have had another six months of chemotherapy to keep the tumour at bay, then I had 21 months of IV treatment of Herceptin and Perjeta, every three weeks. After the H&P stopped working I have moved on to my second-line treatment of Herceptin and Kadcyla, which I have been on for almost a year. Unfortunately, the cancer is starting to grow again, so I think I'll be changing treatment again soon. I am also on a multitude of medications to keep the treatment side effects at bay and have Zoladex and Denusomab injections too.
Why you wanted to be involved with the MetUpUK campaign: The voices of people with MBC need to be heard. We can no longer be invisible. We matter. And MetUpUk is the voice we need to make this happen.